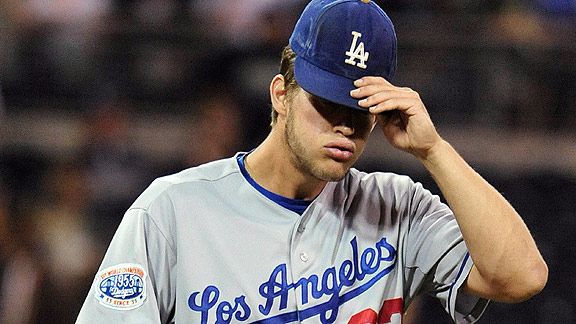 Denis Poroy/APClayton Kershaw reacts after falling behind, 2-0, on an RBI double by Adrian Gonzalez.
Even if no one else is, the Padres are still taking the Dodgers seriously. Two batters after ace starting pitcher Mat Latos struck out 10 in seven innings, San Diego brought in closer Heath Bell to get five outs against the National League West's fourth-place team. Bell did the job, striking out four himself, sealing the Padres' 2-1 victory Tuesday.
Andre Ethier all but epitomized the Dodgers' night with a second-inning at-bat in which he swung at all seven pitches he saw, fouling six and whiffing on the seventh.
Clayton Kershaw (seven innings, six baserunners, six strikeouts) gave up single runs in the second and third innings, and the Dodgers couldn't come back despite placing the tying run in scoring position in the sixth and eighth innings. Latos, three months older than Kershaw and taken in the 11th round of the same 2006 draft (10 picks after the Dodgers took Justin Fuller), lowered his league-leading ERA to 2.21.
The Dodgers fell below .500 for the first time since May 11. Since holding the best record in the NL with a 36-24 record on June 9, the Dodgers are 33-46, 26th in the majors.