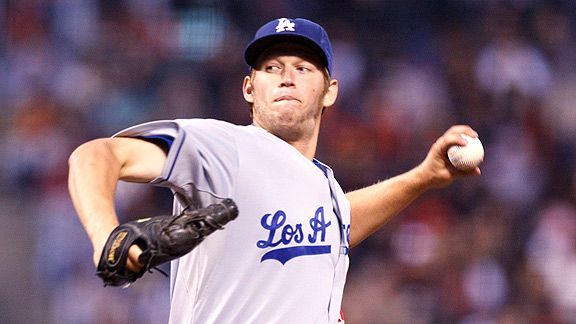 Jason O. Watson/US PresswireThe man.
Give Clayton Kershaw a hit, and he'll take it a mile.
It wasn't quite the same as Sandy Koufax's perfect game, 45 years and five days ago, but it was close enough. It'll do, pig.
Supported by exactly one hit and exactly one run from the Dodger offense, Kershaw wrote another chapter in what looks like a storybook career, pitching his first complete game and shutout to defeat San Francisco, 1-0.
Kershaw, who appeared to have perfect game stuff himself in the early going, retired the first 10 batters before allowing the first of his four hits. He struck out only four – including the game's final batter, Aubrey Huff – but he walked none while throwing an oh-so-appropriate 111 pitches. He now has 201 strikeouts and a 2.85 ERA on the year. The Giants, essentially, couldn't touch him.
The same was essentially true for the Dodgers against San Francisco starter Barry Zito. Matt Kemp had the game's only hit, a second-inning single. That was preceded by a first-inning walk by Rafael Furcal. And Los Angeles did nothing else … but win the game.
The Dodgers scored their run in the following manner: With one out, Reed Johnson was hit by a pitch and sacrificed to second base by Kershaw (his league-leading 17th sacrifice hit of the season). Zito pitched around Rafael Furcal, walking him to get to Andre Ethier, who had hit into a double play and struck out against the lefty in two previous at-bats tonight. In one of the more suspenseful at-bats this doleful Dodger team has seen in a while, Ethier worked out a full-count walk.
With the bases loaded, Casey Blake hit a ball up the middle that looked like it might be a single or a double-play ball when it left the bat. It was neither. Shortstop Jose Uribe reached it but bobbled it for an error, allowing Johnson to score. And that was it. The Dodgers didn't get another baserunner for the rest of the game.
Of course, it has only been two years since the Dodgers won with fewer hits – their hitless victory over the Angels on June 28, 2008. It was a great September game to be a part of, even for a losing team. Kershaw made it happen.
* * *
With a bout of plantar fasciitis, Scott Podsednik has joined Vicente Padilla on the probably-out-for-the-season list, reports Tony Jackson of ESPNLosAngeles.com. Podsednik, who had a .313 on-base percentage and .338 slugging percentage with five steals in eight attempts after coming to the Dodgers in exchange for Elisaul Pimentel and Lucas May, has the option of accepting $2 million from the Dodgers for the 2011 season – if the Dodgers don't buy out his option for $100,000 –  or becoming a free agent.
Given the possibility that litigation in the Dodger ownership battle could drag out for years, Bill Shaikin of the Times explores whether MLB commissioner Bud Selig will or even can intervene.
Travis Schlichting's attempts to come back from injury woes are documented by David Lassen of the Press-Enterprise.