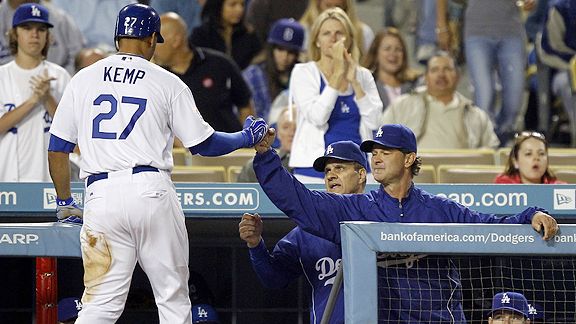 Alex Gallardo/APMatt Kemp is congratulated by present and future managers Joe Torre and Don Mattingly after scoring in the second inning.
With the tying runs on, Matt Kemp struck out to end the game. He did. He swung, he missed, Rockies 7, Dodgers 5.
He had a beautiful triple in the second inning, taking an outside pitch hard the opposite way. He singled, stole second and scored in the fourth. In the seventh, with the bases loaded, he again went with the outside pitch, sending it into the stands just to the right of the foul pole.
And then he grounded out on the next pitch. And with the tying runs on base in the ninth inning, he got ahead 2-0, and he struck out.
And that's Matt Kemp's terrible, no good, horrible, very bad year.
And I still think he'll bounce back. That he'll find the way.
Andre Ethier walked four times, the first Dodger to do that since he did it last August. His bid to become the first Dodger to walk five times in a game since Greg Brock in 1983) was thwarted by a single up the middle on an 0-2 pitch. Five times this year, a Dodger has reached base five times in a game; Ethier twice, Rafael Furcal twice and Matt Kemp once.
Furcal's first-inning error enabled a two-run home run by Troy Tulowitzki (12 taters in his past 14 games), two unearned runs that matched the margin of defeat. Furcal also went 0 for 5 and is now 8 for 45 with six walks and one extra-base hit since returning from the disabled list this month.
Two runs were also charged to Jonathan Broxton, who allowed three walks and two hits in two-thirds of an inning.
Hiroki Kuroda: six innings, three earned runs, eight baserunners, seven strikeouts.
Thanks to his three-hit night, A.J. Ellis (.237) actually a chance to finish the year with an unshameful batting average.
Jay "Pabst Blue" Gibbons had three more hits and is now OPSing .973.
Saturday's game will not be televised live, but rather on tape delay at 4 p.m.
Tweet of the night, passed along by Dodger Thoughts commenter CraigUnderdog: "RT @charles_star: I don't care what your contract says, Mattingly. Jay Leno will be managing the Dodgers by the All-Star break."