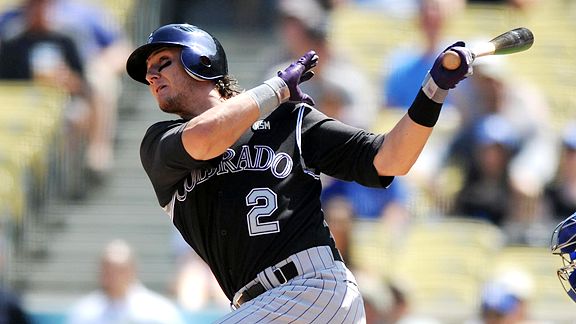 Kelvin Kuo/US PresswireTroy Tulowitzki: Two first-inning homers in two days and two homers today.
Pedro Guerrero hit 15 home runs in June 1985, and it was one of the greatest things I ever saw.
So I'm afraid to try to express what that makes Troy Tulowitzki's 14 homers in the first 18 days of September.
Tulowitzki hit two blasts early, and Melvin Mora had a grand slam late, as the Rockies handed the Dodgers their hats, 12-2.
John Ely was the victim of Tulowitzki's latest superhero flights, his ERA rising to an all-too-round 5.00 (50 earned runs in 90 innings) for 2010. Jeff Weaver's ERA soared to 6.14 after allowing Mora's slam in a six-run eighth inning.
According to the Elias Sports Bureau (via the Dodger postgame press notes), Tulowitzki tied Albert Belle (1995) and Barry Bonds (2001) for the modern day MLB record for home runs in a 15-game span.
With one out in the bottom of the ninth, Russ Mitchell had his second hit and second homer of the season (with Jay Gibbons aboard), preventing the Dodgers from suffering their worst loss of the season. Mitchell is 2 for 22 on the season with four strikeouts.
The rest of the best news for the Dodgers was A.J. Ellis producing his second consecutive three-hit game (along with a walk), raising his season on-base percentage to .340, while Gibbons added a double and single for a 2010 OPS of .991 in 63 major-league plate appearances. Oh, the other good news is the Dodgers have already surpassed their 2005 win total of 71, so they don't have that to worry about.
Clayton Kershaw pitches Sunday.