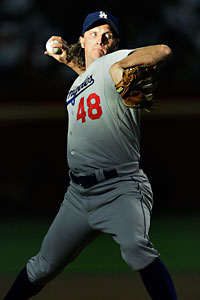 Matt York/AP
John Ely has allowed 11 home runs and 29 walks in his past 49 1/3 major-league innings.
It's getting harder and harder to remember the John Ely we all want to remember.
Though Ely never trailed Saturday until allowing a sixth-inning home run, he surely did struggle, using 101 pitches (nearly half of them balls) in 5 1/3 innings and walking five unintentionally. He had six consecutive outstanding starts from May 6 to June 1; since then, he has had three quality starts out of 10 in the majors, with an ERA of 7.48 and 5.3 walks/2.0 home runs per nine innings. Opponents are OPS-ing 1.002 against him in that time.
During Elymania, everyone marveled at his ability to pound the plate, and the value of that is borne out on first glance at his splits: Ely has allowed a .567 OPS after getting a first strike on a batter, .983 after ball one. However, it's not quite that simple, because Ely is also allowing a .929 OPS when batters swing at his first pitch.
According to MLB Gameday, Cole Gillespie's pivotal three-run homer Saturday came on a 80-mph floating changeup over the meat of the plate that followed an 87-mph fastball for a strike. Ely had the count to his advantage, but the pitch just wasn't good enough.
None of this is enough to make me give up on Ely, but he is going to need to find a way to raise his game. The walks contribute to his trouble, but simply throwing strikes isn't enough. He somehow has to get back to fooling people.
* * *
Josh Fisher at Dodger Divorce goes beyond the legal realities of the McCourt case to offer his take on what really happened with the disputed post-nup agreement.
* * *
To my amusement, in the Dodger press notes, Dodgers communications vice president Josh Rawitch has been tracking Chin-Lung Hu's rise up the chart of all-time Dodger leaders in games played by a shortstop. Friday, Hu passed Rafael Bournigal to move into a tie for 29th place, and Saturday, Hu left Oscar Robles in the dust. Hu's next game at short takes him past Kevin Elster.
According to Rawitch, the Dodgers will finish the season with 593 player games lost to the disabled list, the team's lowest total since 2002. The Dodgers crossed the 1,000-game mark in 2008 and 2009.