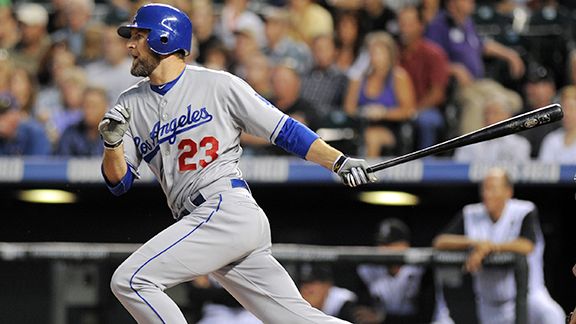 Chris Schneider/APCasey Blake gives the Dodgers a two-run lead in the first inning.
The Dodgers got one hit from the second inning through the eighth, and survived.
After a Rafael Furcal single and two walks in the first inning, Casey Blake's two-out liner off Ubaldo Jimenez's leg drove in two runs, and Ted Lilly did the rest. Lilly held Colorado to a run on four hits over eight innings and 98 pitches, striking out eight, and the Dodgers reduced Colorado's playoff chances to almost nil with a 3-1 victory.
Blake had three of the Dodgers' six hits, scoring the Dodgers' final run following his ninth-inning double. Hong-Chih Kuo pitched the ninth inning, retiring supermen Carlos Gonzalez (who homered off Lilly for the Rockies' only run) and Troy Tulowitzki as well as Chris Ianetta to wrap up a great night of pitching for the Dodgers.
* * *
1) Clayton Kershaw did not pitch tonight, but Rockies starter Jimenez faces a similar challenge. He entered tonight's game with an ERA of 3.0049. Facing his last batter of the night, with a runner on third base, his ERA was at 2.9953. He got Ryan Theriot to line out, leaving his ERA at 2.99, with perhaps one start to go.
2) No bunts for Kershaw.
3) No homers for Kemp or Ethier.
4) No RBI for Loney, Ethier or Kemp.
5) Torre remains at 1,996 losses, with five games to go.
6) Rafael Furcal went 2 for 4, getting a ninth-inning hit to boost his average to .2997.
7) Lilly sandwiched his Gonzalez homer between two walks, putting him at 13 homers and 13 walks as a Dodger this year.
8) Jamey Carroll pinch-hit in the ninth but did not homer.
9) The Dodgers are now 8-16 in September, so they need to win two more games out of five to avoid their worst September-October in Los Angeles.
10) The Bottom Standings after tonight's games:
25-43, .368 Kansas City (won)
25-43, .368 Pittsburgh (lost)
25-43, .368 Seattle (won)
27-42, .391 Los Angeles (won)
28-40, .412 Washington (lost)
28-39, .418 New York Mets (postponed)