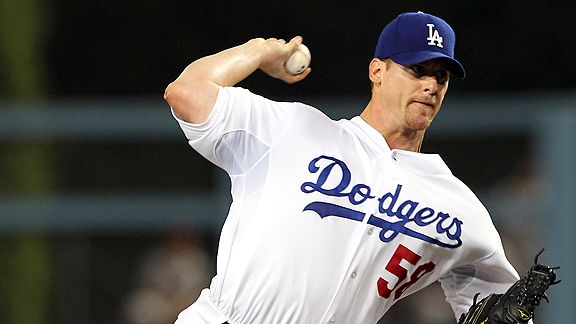 Adam Davis/Icon SMIChad Billingsley struck out five of the first nine batters he faced.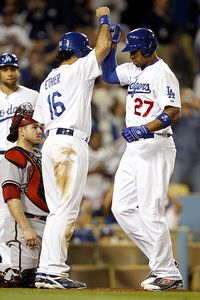 Alex Gallardo/AP
Andre Ethier, who went 4 for 4, greets Matt Kemp at home plate following Kemp's two-run home run.
With Chad Billingsley pitching brilliantly, Matt Kemp slugging a homer here and making a diving catch there, and Andre Ethier going 4 for 4 … you'd almost think you had a ballclub.
The reality was you had but one victory, the Dodgers' 79th in 161 games, 3-2 over Arizona. But, they'll take it.
Billingsley pitched brilliantly, taking a perfect game into the fifth, a no-hitter into the sixth and a shutout into the eighth. He had whittled his ERA for the season down to 3.47 and struck out nine in 7 1/3 innings before finally getting touched for two runs in the eighth. Kenley Jansen pitched the ninth and, though he allowed the tying run to reach second base, struck out the side for the save.
Kemp homered for the fourth consecutive game, getting a green light on a 3-0 pitch from guest manager Jamey Carroll and drilling it out to break a scoreless tie in the fifth inning. Prime Ticket had great audio of Carroll celebrating his decision in the dugout: "That's why we do it!" (They also caught Carroll showing his excitement over the potential three-way tie between San Francisco, San Diego and Atlanta for the final two playoff spots in the National League, as well as becoming the second manager in as many nights to as Clayton Kershaw to get him a sandwich.)
* * *
3) Ethier will need a heck of a memorable Sunday to catch Kemp, whom he trails in home runs, 27-23.
4) Kemp's 86th and 87th RBI pulled him within one of James Loney for the team lead.
6) Rafael Furcal did not play again, with Joe Torre telling reporters before the game that the team is consciously trying to keep Furcal's average over .300. Furcal is not expected to bat more than once in Sunday's finale.
10) Pittsburgh lost, clinching the worst record in the National League since the All-Star break.