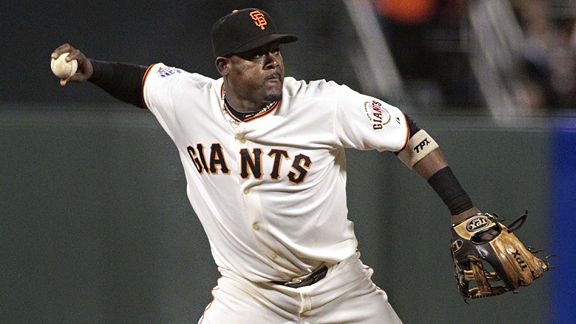 Cary Edmondson/US PresswireJuan Uribe
If you're a 29-year-old ballplayer who has suffered through four pretty miserable offensive seasons, let Juan Uribe be your patron saint.
Though it's not official, Uribe is poised to sign a three-year, $21 million contract with the Dodgers, according to Buster Olney of ESPN the Magazine, two years after having been mediocre-to-miserable offensively with the Chicago White Sox from 2005-08. He averaged 16 homers per year during that period, but his on-base percentage ranged only from .257 to .301, leaving him far below average as a hitter. In January 2009, Uribe signed a minor-league contract that guaranteed him only $1 million if he made the major-league roster.
But Uribe experienced something of a rebirth, in San Francisco of all places, and largely after turning 30 (although ESPN.com and Baseball-Reference.com disagree about his birthdate by four months). Uribe had an .824 OPS in 2009 for the Giants, then followed it up with a .749 mark and some pennant-worthy heroics for the World Series champions.
And now, Uribe, who still made a relatively lean $3.25 million in 2010, has apparently more than doubled his income in becoming the Dodgers' starting second baseman, as well as a guy who, like Jamey Carroll, can play short or third if needed. He fills a hole that needed filling for the Dodgers, but not at all cheaply. (Scholars will debate whether, with his on-base difficulties, he will be millions in value better than Blake DeWitt would have been, and Joe Pawlikowski of Fangraphs notes that in career terms, Uribe doesn't even beat Ryan Theriot in value.). Uribe was a bargain for the Giants, but he'll have to play at his best, for quite a long time, just to be worth his salary for the Dodgers.