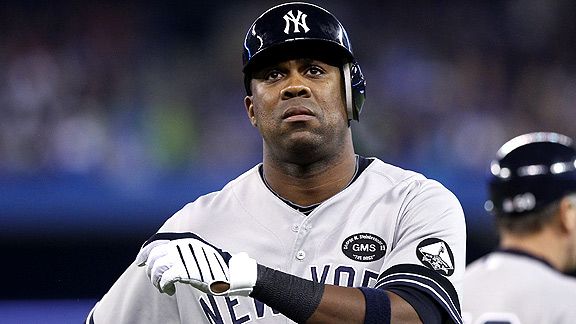 Tom Szczerbowski/US PresswireMarcus Thames
Adding to their collection of poor-defending but slugging outfielders, the Dodgers are poised to sign the guy who might be Jay Gibbons' brother from another mother: Marcus Thames. Tony Jackson of ESPNLosAngeles.com has details.
Thames, 34 in March and four days younger than Gibbons,  had a .350 on-base percentage and .491 slugging percentage against lefties last season, making him a potential platoon partner with Gibbons or Xavier Paul (only if the latter has a knockout Spring Training, it appears). Overall, Thames has an OPS of .802 in a career spent entirely in the American League. But Thames carries with him the baggage of being yet another left fielder that Dodger pitchers might be afraid of.
The Thames signing reduces the chances of the Dodgers resorting to games with Casey Blake or Jamey Carroll in the outfield. Whether the Tony Gwynn, Jr. plan B to realign the outfield is dead remains to be seen. Jamie Hoffmann has no chance of making the Opening Day roster now unless someone gets hurt.
Thames and Gibbons represent appealing bats off the bench — whether we want to see them each play 500 innings in the field this year is another story. But this definitely beats re-signing Scott Podsednik.
* * *
The Dodgers are taking negotiations with Chad Billingsley, Hong-Chih Kuo and James Loney down to the wire, Jackson writes in a separate story.
With major league teams and arbitration-eligible players set to officially file salary figures on Tuesday, the Los Angeles Dodgers still haven't reached agreement with any of their affected players — pitcher Chad Billingsley, reliever Hong-Chih Kuo and first baseman James Loney — but based on recent history, it appears highly unlikely that the club will end up going to a hearing with any of those players in early February.

In the decade that assistant general manager Kim Ng has been handling all the team's arbitration cases, only two players have taken the Dodgers to a hearing. The club won both of those cases against pitchers Eric Gagne in 2004 and Joe Beimel in 2007, the victory over Gagne coming the winter after he won the National League Cy Young Award.

For now, Ng isn't making any predictions.

"We will have a much better idea in the next 24 hours [after numbers are filed on Tuesday]," Ng said. "It's moving. We're progressing, but nothing is final yet."

Ng did confirm that the club isn't discussing a multiyear contract with either Billingsley, Kuo or Loney. All three are "four-plus" players, meaning they have between four and five years of major league service time, are arbitration-eligible for the second time and — barring a multiyear deal — will be arbitration-eligible again next winter. …
* * *
Trayvon Robinson is the subject of a really nice feature by Ramona Shelburne of ESPNLosAngeles.com.
As far back as any of his baseball coaches can remember, people noticed Trayvon Robinson. He had the skills, but not the polish; the raw tools, but not the savvy.

Anyone with a little vision could see what kind of player he could become. The question was whether that potential would develop and bloom one day.

Andre Green had coached baseball at Crenshaw High School in Los Angeles long enough to recognize a talent such as Robinson's early on. He'd also been around long enough to know all the things that could keep Robinson from developing into what he's since become: one of the Los Angeles Dodgers' top prospects.

Like many of Crenshaw's top athletes in recent years, Robinson also played football before high school.

"He wanted to play football, and I just told him 'No,'" Green said. "I said, 'You're a baseball man and you're going to put Crenshaw on the map.'" …