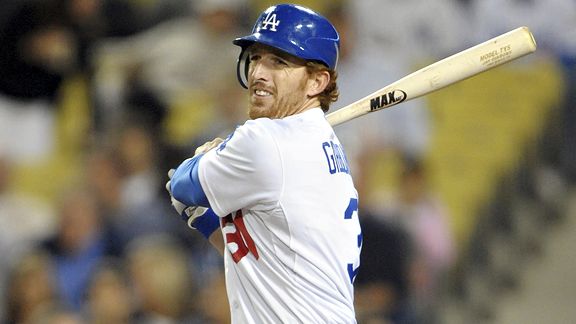 Kirby Lee/US PresswireJay Gibbons will be among several Dodgers vying for playing time in left field.
Can't recall when so many spots on the Dodgers' Opening Day roster seemed locked up by Martin Luther King Day:
Starting pitchers (5): Clayton Kershaw, Chad Billingsley, Hiroki Kuroda, Ted Lilly, Jon Garland
Relief pitchers (7): Jonathan Broxton, Hong-Chih Kuo, Vicente Padilla, Kenley Jansen, Blake Hawksworth, Ronald Belisario, Scott Elbert*
Starting lineup (8): Rod Barajas, James Loney, Juan Uribe, Rafael Furcal, Casey Blake, Andre Ethier, Matt Kemp, Jay Gibbons**
Bench (5): Jamey Carroll, Tony Gwynn Jr., Marcus Thames, Dioner Navarro or A.J. Ellis, Juan Castro***
* The last bullpen job is up for grabs. In fact, I wouldn't necessarily call Hawksworth or Belisario locks, but they have the great advantage of not having any remaining options. Or instead of going to a seventh reliever, because of the deep starting rotation, they go with a sixth position player reserve like Xavier Paul.
** Gibbons is listed as a starter because someone had to be.
*** Castro or some other infielder.  Maybe the still-unsigned Eric Chavez, or maybe Justin Sellers or another nonroster player sneaks in, or a longshot like Ivan De Jesus, Jr.
But overall, I would say that barring injury or trade, 22 of the 25 spots seem taken, with the 23rd going to the backup catcher, potentially leaving as few as two spots to battle for in Spring Training.
Update: I completely forgot about Matt Guerrier. That takes Elbert's theoretical spot, and tightens the noose on the roster even more. Thanks to Dodger Thoughts commenter BLUE4life MK27 for the reminder.