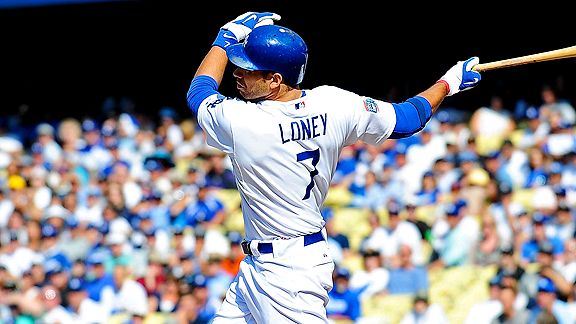 Gary A. Vasquez/US PresswireJames Loney hit 19 homers in his first 446 career at-bats. He hit 10 in 588 at-bats last season.
This excerpt from Tony Jackson's piece for ESPNLosAngeles.com today on James Loney, Matt Kemp and Andre Ethier got me thinking about Loney:
The lefty-hitting first baseman has never hit more than 15 home runs in a season and hit only 10 of them in 2010, but he had a career-high 41 doubles and drove in 88 runs, his third season in a row with at least that many RBIs. Still, general manager Ned Colletti and manager Don Mattingly continue to insist that Loney is a potential power hitter, and they remain determined to get him to reach that potential.

But Loney has now spent five seasons in the majors, enough to make an outsider wonder if this is simply who Loney is: a gap-to-gap, line-drive, doubles hitter who manages to drive in a lot of runs and still be reasonably productive without going deep very often.
My initial reaction is that I've never really expected Loney to become much more than what Jackson describes in that last sentence. Mark Grace has often been cited as the best-case scenario for Loney, and Grace never hit more than 17 homers in a season — and that's with playing half his games in Wrigley Field.
But for curiosity's sake, I used Baseball-Reference.com to pull the list of 27-and-under players who, since 1990, have had at least 40 doubles in a season without hitting more than 15 home runs that same year. I then looked to see what their career highs in home runs were or are.
Here's what I found — take it with several grains of salt as a mere conversation starter:
35 Garret Anderson
32 Brad Fullmer
29 Robinson Cano
29 Kevin Youkilis
29 Dmitiri Young
28 Joe Mauer
27 John Valentin
25 Sean Casey
24 Roberto Alomar
24 Eric Hinske
24 Alexis Rios
24 Jose Vidro
23 Nick Markakis
21 Billy Butler
21 Marcus Giles
21 Shannon Stewart
20 Jimmy Rollins
18 Chuck Knoblauch
18 Brian Roberts
17 Orlando Cabrera
17 Jeff Cirillo
17 Dustin Pedroia
17 Todd Walker
16 Gregg Jeffries
16 Edgar Renteria
15 Martin Prado
14 Deivi Cruz
14 Felix Jose
13 Mark Grudzielanek
12 Jack Wilson
11 Alberto Callaspo
10 Howie Kendrick
6 Asdrubal Cabrera
5 Jody Reed
The best-case scenario would be Anderson, who had 41 doubles and 15 homers at age 26 with a .780 OPS. (The year before, he had 36 doubles and eight home runs with a .743 OPS.) Over the next five seasons, he averaged 44 doubles and 28 homers with an .836 OPS that would have been even higher if he could have drawn much more than a walk per week (29 walks per year).