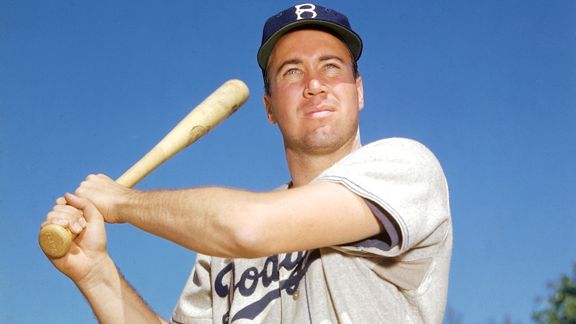 Hulton Archive/Getty ImagesThe Duke of Flatbush
My tribute to Duke Snider, who died this morning at the age of 84, from "100 Things Dodgers Fans Should Know …"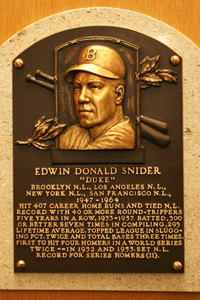 National Baseball Hall of Fame
Duke Snider joined the Hall of Fame in 1980.
"With two runners on base and the Dodgers leading, 5-4, in the 12th inning, Willie Jones drove a 405-footer up against the left-centerfield wall. Duke isn't a look-and-run outfielder, like Mays. He prefers to keep the ball in view all the time if possible, and he was judging this one every step of his long run to the wall. There it seemed he was climbing the concrete 'on his knees,' as awed Dodger coach Ted Lyons put it. Up and up he went like a human fly to spear the ball, give a confirming wave of his glove and fall backward to the turf. The wooden bracing on the wall showed spike marks almost as high as his head. It was such a catch that, although it saved the game for Brooklyn, admiring Philly fans swarmed the field by the dozens. Duke lost his cap and part of his shirt and almost lost his belt."
– Al Stump, Sport

Edwin Donald Snider gets third billing in the Terry Cashman song, "Willie, Mickey and the Duke" – a placement that seems to celebrate as well as diminish his legacy. Snider was one of the greatest center fielders of all time, up there with Willie Mays and Mickey Mantle, but he was forever proving himself, to the Dodgers and to baseball history.

"Duke was so talented, and he had a grace about him," said his Dodger roommate for 10 years, Carl Erskine. "They talk about (Joe) DiMaggio and how he carried himself on the field. … His outfield play and his running the bases and his trot for the home run, he just looked class, man.

"The thing that bothered Duke was, no matter how well he did, the coaches (and) managers always said, 'He can do better than that.' They always kind of made Duke feel no matter how hard he tried, he couldn't satisfy everybody. It was bothersome for him."

Snider, a Compton High School graduate from Los Angeles, even had a love-hate relationship with Ebbets Field fans, as Maury Allen writes in Brooklyn Remembered. "Snider always wore his emotions on his sleeve," Allen said. "A home run in a key spot would produce that Hollywood handsome grin. A strikeout with the bases loaded and the Brooklyn fans booing his very name announcement the next day would result in a week of sulkiness."

APTaking his cut, c. 1950.

Ultimately, like the way he climbed that Ebbets Field wall to save the game against the Phillies, Snider reached magnificent heights. He had eight full seasons and two partial seasons with EQAs of .300 or better, more than any other Dodger ever. He had at least 40 homers in the Dodgers' five final seasons in Brooklyn, and a career .295 batting average, .380 on-base percentage and .540 slugging percentage. He hit an all-time Dodger record 389 homers.

In a 1955 article, Sports Illustrated chose Snider over Willie Mays: "In every sense, the contemporary hero of Flatbush, prematurely gray at the temples in his 29th year, is a picture player with a classic stance that seldom develops a hitch. Next to (Ted) Williams, Snider probably has the best hitting form in the game. And, like Williams, he has amazing eyes — large, clear, calm and probing. With each oncoming pitch, Snider tenses and then throws his full 195 pounds into it, if he swings, with a smooth, lashing motion."

The Duke was much, much more than a name in a song.

This is a tectonic passing. The Duke is iconic, a legacy carved in granite.  We will truly miss you.