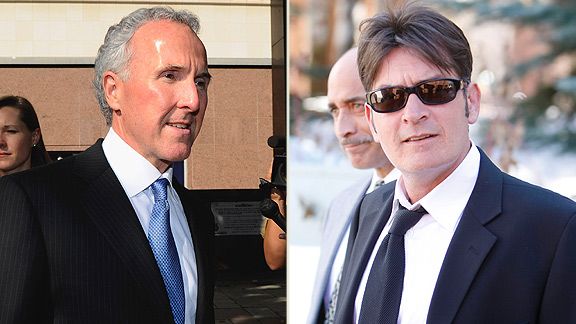 Getty ImagesFrank McCourt, Charlie Sheen
I haven't written about the McCourts in a while, not that I sense many of you are complaining. Anyway, here's a link to some news Tuesday, from Molly Knight of ESPN the Magazine:
Lawyers for Jamie McCourt filed a motion Tuesday in superior court seeking greater financial transparency from her estranged ex-husband, Dodgers owner Frank McCourt, calling his recent attempt to secure loans to ease his cash-flow problems without their client's knowledge "outrageous." …

The filing comes on the heels of last week's report by the Los Angeles Times (by Bill Shaikin) that Frank tried, and failed, to secure a $200 million loan from Fox Television against the team's cable TV rights. Major League Baseball commissioner Bud Selig rejected that deal, "a clear sign that Frank's actions were deemed to be not in the best interests of the franchise," Jamie McCourt's court filing stated. …

Frank McCourt's attorney, Ryan Kirkpatrick, said his client "has fully complied, and will continue to comply, with his obligations to Jamie." He added that the two sides have already scheduled a meeting to talk about the "parties' requests for information from one another, and the mechanics of exchanging that information." …
It has been nearly 1 1/2 years since the McCourts' marital problems went public, throwing the franchise into its current turmoil. It has come to feel like a fog to me. We drive forward, determined to reach our destination but without clear vision. And the brighter we shine the lights, the more opaque it becomes.
As some of you know, I've spent a good deal of time in my day job over the past few days on the Charlie Sheen beat. It's given me a small taste of what it's been like for the Shaikins, Knights and Josh Fishers of the world, although I have to think some of them would trade a McCourt for a Sheen in an erratic heartbeat. The sensation that was Vladimir Shpunt has been coming out of Sheen's mouth every five minutes or so since Thursday – what they might have given to hear Frank say, "It's been a media tsunami, and I've been riding a mercury surfboard."
People like Sheen and the McCourts become stories, long past anyone's desire or patience to hear more about them, because like them or not, they have high-stakes fates. The fate of one of baseball's most valuable and historic franchises rests on the McCourts … and yet the value of that franchise pales in comparison to what "Two and a Half Men," the CBS sitcom Sheen stars in, has been worth to the network and producing studio Warner Bros. Before production was suspended on the series, Sheen was making approximately $1.8 million per episode. In calendar 2010, Sheen appeared in 23 episodes, meaning a base salary of more than $41 million before you even begin discussing his ancillary income from syndication and other sources.  Manny Ramirez, Andruw Jones, Jason Schmidt – these guys are paupers compared to Sheen.
I would dare say I've written almost as little as my jobs have allowed about Sheen and the McCourts, but ignoring them completely has been impossible. It's hard to deny that there are real stories there. They could use some editing, but they are stories. And that's without even getting into the life-and-death stakes for some in the Hollywood tale.
I'm not going to try to stretch out too many parallels between Charlie Sheen and Frank McCourt, but I can't help thinking there's at least one. Sheen has made it clear that he is living by his own rules. He believes those rules are fair and righteous, and the fact that society, fans of his show, the people he (at least previously) answered to or even blood relatives might not share that view does not matter. Setbacks are hurdles to be bulldozed. "Defeat is not an option," Sheen says over and over again.
One of Sheen's most memorable lines came when he was railing against Alcoholics Anonymous, saying that it is for "people that are not special, people who do not have tiger blood and Adonis DNA." Charlie Sheen believes he has tiger blood. And though he would never say it like this, I suspect that in his own way, Frank McCourt believes he has tiger blood too.
Over the past 15 months, McCourt has seemed unshakable in his belief that what he's doing is right. That what he's doing is best for his children. That anything one might call a mistake or selfishness is, at worst, a means to an end. That the people who question him simply don't understand. That he will be vindicated. That because he's been a winner in the past, he'll be a winner in the future. Even when he's ridden on the edge of the cliff.
I imagine that tiger blood is a trait shared by a number of people who become successful, but there comes a point when it goes beyond empowering and becomes a pollutant. I have no expectations that this tiger is going to change his stripes. I don't believe he's going to give up the Dodgers without clawing or scratching through the last fight. But tiger blood makes people selfish to the extreme, and even allowing for the eccentricities and entitlements of ownership, circumstances have long since stopped any reasonable defense of his fight.
Yes, McCourt has rights. But he also has duties.
For all his romping and stomping, Sheen realizes that there is life after "Two and a Half Men." It's time that the McCourts embark upon life after the Dodgers. It's time they find a new passion. Quit this pretense that you're the best thing for this franchise, quit this pretense that your children deserve to inherit leadership of the team, and let go.