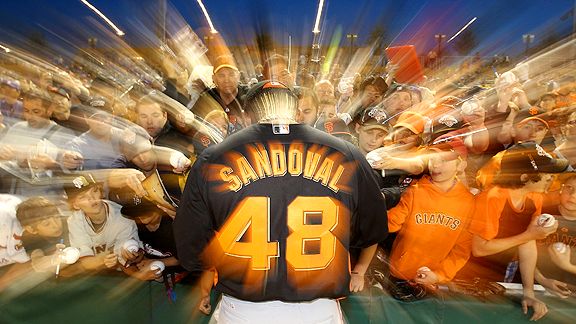 Christian Petersen/Getty ImagesPablo Sandoval shone bright on an 0-for-3 night.
Highlights:
Jon Garland only allowed an unearned run in a three-inning Spring Training debut.
Jerry Sands walked, singled and scored a run.
The Dodgers had 15 baserunners, including seven walks.
As Tony Jackson of ESPNLosAngeles.com notes, the Dodgers have stolen 11 bases in 13 attempts this spring.
Lowlights:
Matt Guerrier, Ron Mahay and Travis Schlichting allowed four runs in three innings.
The Dodgers went 1 for 11 with runners in scoring position.
Los Angeles had no extra-base hits.
Sidelights:
Ron Mahay faced Buster Posey in a matchup that, if you were playing Strat-o-Matic, probably required a 2-12 on the dice to get an out. Instead, Posey rolled a home run.
Matt Kemp and Russ Mitchell each had a single and an error.
Both teams hit each other with pitches in the second inning.
Injured pitcher Dana Eveland was reassigned to minor-league camp without throwing a game pitch this spring.
Jackson reports a second signing from this year's open tryout: Robert Romero, who turns 26 in 24 days. A former seventh-round pick of the Angels, the righty has pitched independent ball since 2008.
Kenley Jansen took a tumble, writes Ken Gurnick of MLB.com.
Juan Uribe gets personal in this feature by Dylan Hernandez of the Times.
Russell Martin made his first game appearance behind the plate since August 3. The Yankees' backup catcher, Francisco Cervelli, broke his foot this week.
As Jackson notes, the Dodgers are indicating that the hint of plantar fasciitis in Marcus Thames has been nipped in the bud, but I can't help thinking a small door might be opening for Jamie Hoffmann or Gabe Kapler. (I'm not ready to believe that the Dodgers would jump Sands to the big leagues in April, but June might start to look more plausible in a few weeks.)