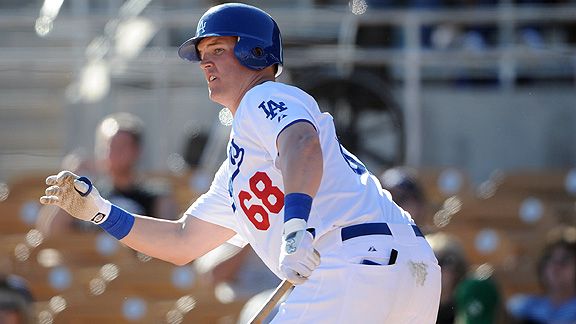 Harry How/Getty ImagesJerry Sands (shown here from a February 28 game) homered and tripled for the Dodgers today.
Highlights:
Jerry Sands homered in the seventh off Greg Reynolds and tripled in the eighth off Matt Belisle, driving in three runs with the first blast. More exuberance!  More of me saying he won't make the team until at least May.  More of me silently wondering to myself whether, if James Loney reaggravates his knee,  the door to April creaks open.
Xavier Paul ended his early spring slump with a homer ahead of the Sands triple.
Juan Uribe, Marcus Thames and Trayvon Robinson added doubles for the power-starved Dodgers.
Hey, singles count too: A.J. Ellis went 2 for 2.
Ted Lilly allowed a run in 3 1/3 innings, allowing three baserunners and striking out two.
Tim Redding pitched three shutout innings in relief, increasing his chances of being the first starting pitcher after the front five that the Dodgers turn to in case of need.
Lowlights:
Rafael Furcal and Matt Kemp went 0 for 3.
Sidelights:
An excerpt from the new Roy Campanella biography can be found at Alex Belth's Bronx Banter.
Josh Wilker's "Cardboard Gods" is now out in paperback.