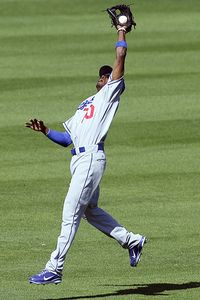 Rejected Spring Training mottos: "To the death. No. To the pain."
Though the Dodgers themselves are no longer involved, there will be an adult baseball camp at the Vero Beach Sports Village formerly known as Dodgertown in November. Click here for details.
Don't forget that the Dodgertown Classic, featuring a doubleheader of Georgia-St. Mary's and USC-UCLA, takes place Sunday at Dodger Stadium. Concessions are half-price and parking is free.
From the Dodger press notes: "Today is the official reporting day for all Dodger minor leaguers. According to minor league clubhouse stalwart Troy Timney, there are 148 players arriving in camp and 198 lockers in the clubhouse. Minor league games will begin on March 18. "
Also: "Through 12 games, Dodger starters have posted a minuscule 1.09 ERA." (four earned runs in 33 innings).
It's Scorekeeping Week at Pitchers and Poets, and today offers a fun interview with Mariners broadcaster Dave Sims.
Tweets by Tony Jackson of ESPNLosAngeles.com this morning:


Live chicken in Furcal's locker.

Lenny Harris was claiming it was Furcal, who had been turned into a chicken. But then Furcal walked in.

Chicken update: all they did was turn him loose in the clubhouse during the team meeting this morning.

when I said turn HIM loose, I was making a gender assumption that I hadn't bothered to confirm. Nor will I bother to confirm.
* * *
Mariners at Dodgers, 12:05 p.m. (Prime Ticket)
Rafael Furcal, SS
Casey Blake, 3B
Andre Ethier, RF
Matt Kemp, DH
James Loney, 1B
Juan Uribe, 2B
Jay Gibbons, LF
Rod Barajas, C
Tony Gwynn Jr., CF