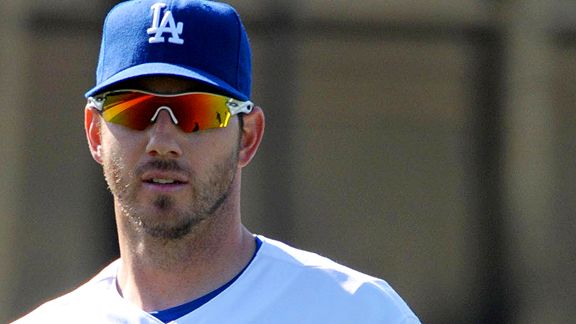 Kirby Lee/Image of Sport/US PresswireJon Garland will take a 0.00 Spring Training ERA to the doctor.
Highlights:
Rod Barajas went 2 for 2 with his second homer of the spring.
Jerry Sands had another hit, briefly raising his Spring Training batting average to .500, before reaching base on an error in the eighth.
Dee Gordon doubled and scored on a Trent Oeltjen single in the eighth.
Josh Lindblom pitched a shutout ninth, striking out two and walking one.
Lowlights:
Obliquely speaking, one trumped all. Apparently, live chickens pass unpleasant mojo to Jon Garland.
Hong-Chih Kuo allowed a home run to his second batter, Jack Wilson.
Wilkin De La Rosa and Jon Huber, neither of them roster contenders, let a close game slip away. De La Rosa allowed two runs in his second inning of work, while Huber gave up a grand slam and five runs total while getting only one out in the seventh.
In his return to the lineup, James Loney went 0 for 2 with an error on Ichiro Suzuki's leadoff at-bat.
Barajas' passed ball allowed the Mariners to score an unearned first-inning run
Rafael Furcal, Casey Blake, Matt Kemp, Jay Gibbons, Juan Uribe, Tony Gwynn Jr. and Loney went a combined 0 for 16.
Sidelights:
Former Dodger minor-league manager and coach Luis Salazar, now a minor-league manager with the Braves, suffered frightening injuries after being hit in the face by a line drive today.
Andre Ethier was replaced today in the starting lineup by Gabe Kapler just before gametime.