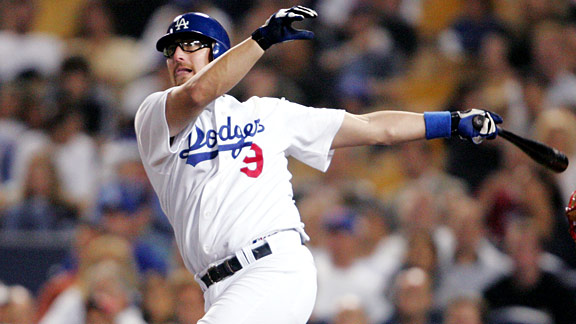 Jeff Lewis/US PresswireJason Phillips played 19 games at first base for the 2005 Dodgers.
I believe that the 2011 Dodgers could win the National League West, and that after that, anything is possible.
That being said, I don't know that I've been less optimistic about a Dodger team in quite a long time. That includes the 2005 Dodgers, who ultimately finished 71-91 in between 2004 and 2006 division titles. I had doubts about that team, but they were relatively minor.  For the Hardball Times, I predicted they would win at least 80 games and maybe many more, and for Baseball Analysts, I had them finishing a close second (to the Giants) in the NL West, ultimately won by the Padres with an 82-80 record.
Rightly or wrongly, that the 2005 team disintegrated to the extent it did took me by surprise. If the same thing happened to the 2011 Dodgers, I wouldn't be caught off guard.
Again, I do think there's all kinds of upside to this year's team, because of the pitching and the potential of bounce-back seasons from Matt Kemp, Andre Ethier, Rafael Furcal and James Loney. A late-season infusion from Jerry Sands, Rubby De La Rosa or a midseason acquisition could put the Dodgers over the top. But the foundation of the team seems crepe paper thin:
The starting rotation tilts toward the older side, which means the potential for decline and disappointment looms — even before you consider the chance of growing pains for Clayton Kershaw and Chad Billingsley.
There's no guarantee that Kemp, Ethier, Furcal and Loney will be better this season than last.
Catcher, left field and third base/second base could be wastelands.
Relief pitching is inherently unpredictable, which relates not just to Jonathan Broxton, but also Kenley Jansen, Matt Guerrier and more.
An ill-placed injury or two could simply devastate this squad.
While pondering the spring of Hector Gimenez this weekend, seeing him get more play at first base, it occurred to me that he could be the 2011 Jason Phillips — a player with a high-.600s, low-.700s regular-season OPS getting time at a key hitting position partly out of frustration with the incumbent (James Loney, meet Hee Seop Choi). Phillips actually didn't play that much first base for the '05 Dodgers, but some still consider him emblematic of a season gone wrong.
Let me reiterate that I'm not giving up on this team — as I've said before, I'm actually kind of looking forward to the start of the 2011 season more than 2010, when I was more confident. If nothing else, Spring Training 2011 has been noticeably tranquil, and maybe that's a good sign.
I'm often accused, sometimes derisively, of being an optimist — in contrast to being a realist, a word that somehow the pessimists co-opted for themselves. I don't think my optimism has even been unrealistic. The Dodgers teams that I have been optimistic about had real chances to perform well, whether they actually did or not, and I think I've sometimes been quite justified to preach patience and calm.
I believe in the potential of the 2011 Dodgers. I believe this will be a long season with many twists and turns. I don't believe that, if things start to look grim, I'll be out on the streets of Faber shouting, "Remain calm — all is well!"