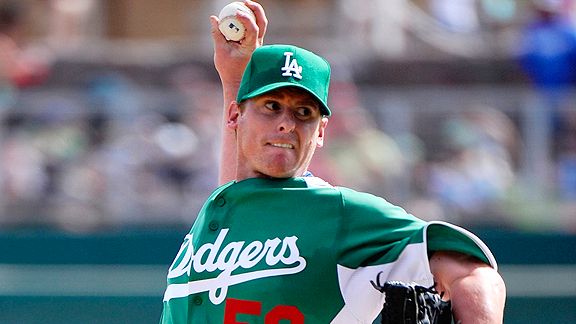 Kevork Djansezian/Getty ImagesChad Billingsley (shown here on St. Patrick's Day)
Dodgers 2, Cubs 1 (10)
Highlights:
In the finest outing by a Dodger pitcher this spring, Chad Billingsley threw six shutout innings, allowing four hits and three walks while striking out three. Starting in the second inning, he retired 12 batters in a row before allowing a single and two walks with two out in the sixth, but Billingsley then retired Jeff Baker on a fly to center.
Dodger farmhand Kyle Russell doubled with one out in the 10th, then scored on Orlando Mercado's game-winning hit.
Hector Gimenez's charmed spring added another clover when, in his first inning in left field, he threw out Tyler Colvin at the plate. Dodger Thoughts reader BHSportsGuy said Colvin had barely passed third when Gimenez picked up the ball, but it was a good, low throw to Rod Barajas.
Scott Elbert relieved Lance Cormier with two on and two out in the seventh, and struck out Colvin.
Rafael Furcal singled and doubled.
Xavier Paul singled in Eugenio Velez (2 for 3) in the fifth to give the Dodgers their initial 1-0 lead.
Hong-Chih Kuo pitched a perfect inning, striking out Carlos Pena and Geovany Soto.
Minor-leaguer Corey Smith singled and walked — in nine plate appearances this spring, he has a single, a double, two homers and two walks. OPS: 2.611.
Lowlights:
Velez hurt himself while bunting for a hit in the seventh inning.
Ramon Troncoso gave up a game-tying homer to the first batter he faced in the ninth inning, Baker, before retiring the next three hitters.
Gimenez's charmed spring lost a clover when he went 0 for 4 at the plate with three strikeouts.
Jay Gibbons went 0 for 3 with two strikeouts.
Sidelights:
Good work by Eric Stephen of True Blue L.A., showing how the Camelback Ranch attendance drop reported by Steve Dilbeck of the Times was overblown.
Logan White told Mark Timmons and Jared Massey of LADodgertalk.com, "I'd rather be a Dodger than a GM," adding that his heart really wasn't into the job interviews he has had.
Blake DeWitt tripled off Cormier to start the Cubs' thwarted seventh-inning rally.
Even though Stanford lost, this was the highlight of my day: