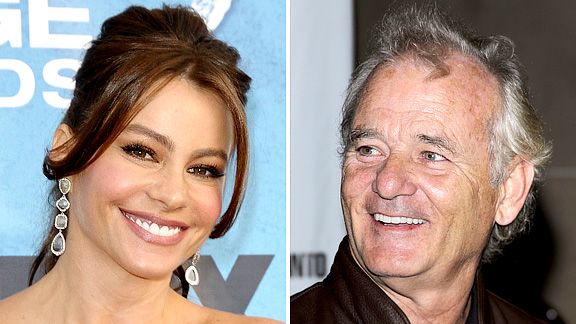 Getty ImagesSofia Vergara has never faced Bill Murray in an official game – yet.
Apropos of nothing …
I got to thinking the other day about the demise of the Dodgers' Hollywood Stars game, which actually began fading in importance in my childhood – I've never once seen it in person – but has truly crashed on the rocks in the current era. But once upon a time, it was a big deal. In a way, with the Lakers having become the gathering nexus of stars and sports, I'm surprised they haven't made a celebrity game a tradition.
Anyway, it's kind of a frivolous topic, but I decided to have some fun trying to come up with rosters that would make me want to come to the game – a lineup that would put some sizzle and some stakes back into the Hollywood Stars game. Here are the ground rules:
Each team should have breadth across the decades, dating back at least to players born in the 1950s.
Each starting lineup should have at least three women.
Each starting lineup should have at least five players who you have reason to believe can half-decently hit, throw and catch.
As many players who can both play the game and play to the crowd as possible.
There should be one or two players on each team from foreign lands who are inept at baseball but charmingly so.
Oh, and the winning team gets $10 million to donate to its favorite charity. The losing team gets $5 million. Don't worry – I've got it covered.
Here are my opening suggestions:
Sandys
Manager: Eli Wallach
Coach: Don Rickles
Captain: Sandy Koufax
Starting lineup
Miranda Cosgrove, C
Kobe Bryant, LF
Jon Hamm, SS
Tom Hanks, 3B
John Kraskinski, RF
Bill Murray, P
Reese Witherspoon, CF
Idris Elba, 1B
Emily Blunt, 2B
Bench
Jeff Bridges, P
Robert Redford, OF
Marisa Tomei, P
Nick Offerman, C
Ron Howard, IF
Danica McKellar, OF
Betty White, PH
Fernandos
Manager: Clint Eastwood
Coach: Ernest Borgnine
Captain: Fernando Valenzuela
Starting lineup
Alyssa Milano, 2B
Blake Griffin, CF
Bryan Cranston, P
Jimmy Kimmel, SS
Sofia Vergara, RF
Brad Pitt, 3B
Louie C.K., C (and for scorekeeping purposes, he should strike out in his first at-bat)
Tom Selleck, 1B
Amy Poelher, LF
Bench:
Will Smith, IF-OF
Anne Hathaway, OF
Zach Galifianakis, C
Mark Harmon, P
Adrianne Palicki, P
Selena Gomez, IF-OF
Mickey Rooney, PH
Broadcaster: Vin Scully
OK, now time for your suggestions. Which players did I miss? Whom would you add, and whom would you cut?