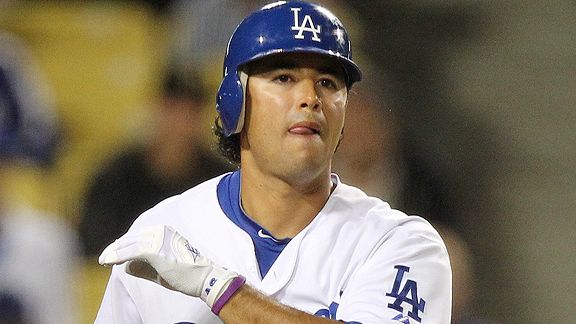 Adam Davis/Icon SMIAndre Ethier is the first Dodger to have three consecutive seasons with an adjusted OPS of at least 130 since Gary Sheffield and only the fifth in Los Angeles Dodger history to do so.
Andre Ethier was asked today about his perplexing postgame comments from Monday, and here's the explanation – as Tony Jackson of ESPNLosAngeles.com reports, he's apparently afraid of being non-tendered after this season.
The Dodgers went that route with former All-Star catcher Russell Martin over the winter, and Ethier hinted that a similar fate could be in store for him.

"My salary is increasing each year," Ethier said. "I would say the likeliness of me being here beyond this year, it's not just my decision. … I have been kind of lucky to be in one spot in baseball for as long as I have been, for six years now. That is a long time to be in one city playing for one team. There is no inclination now other than to go out and play this year and see what we've got.

"If I don't play well, we have seen them non-tender guys here. If you do play well, sometimes they don't offer those guys arbitration because their salaries are too high."

Dodgers general manager Ned Colletti said he wasn't aware of Ethier's remarks, either from Monday night or Tuesday afternoon, and he initially seemed taken aback by them. …

But on the day the Dodgers finalized a three-year, $35 million contract extension for pitcher Chad Billingsley, Colletti did reveal that he had preliminary discussions during spring training with Nez Balelo, Ethier's Los Angeles-based agent, on a possible extension for Ethier, but that those discussions died fairly quickly.Ethier insisted he was unaware that those talks had even begun between Colletti and Balelo, so he couldn't have been aware that they had been quickly abandoned.

"I guess they didn't get far enough for it to get to me," Ethier said. "I guess that shows you how serious they were." …

Ethier now says he would like to remain with the Dodgers for a long time to come, but he also qualified that statement."Yeah, as long as the organization is going in the right direction and is still committed to winning rather than things not going good for a year or two and then rebuilding or maybe going through a transition year," he said. "You hear it all the time, coaches and players saying they don't know how many opportunities you're going to get to be in the playoffs or on a winning team. I want to be somewhere [that provides] my best shot to win and win on an everyday basis. It feels like we have that here and we're moving that way, but that's kind of a wait-and-see basis."
Yes, he does appear to have a fair bit of disenchantment with the front office. What's poetic is that Billingsley could have felt exactly the same insecurity a year ago, when Ethier, Matt Kemp and Jonathan Broxton got two-year contracts but he didn't.
There's no doubt that a) the Dodgers aren't going to pay $10 million or more to players they think can't earn it, and b) Ethier is prone to melancholia and doomsday thinking. I think it's one thing to motivate himself to have the best possible year, on and off the field, that he possibly can. It's another thing for Ethier to think that the Dodgers aren't interested in keeping him around – especially if he performs the way he is capable of.
Dodgers with three consecutive seasons, OPS+ of at least 130
2008-2010 Andre Ethier
1999-2001 Gary Sheffield
1993-1997 Mike Piazza
1981-1985 Pedro Guerrero
1980-1982 Dusty Baker
1952-1957 Duke Snider
1951-1954 Gil Hodges
1949-1953 Jackie Robinson
1949-1951 Roy Campanella
1943-1945 Augie Galan
1938-1942 Dolph Camilli
1928-1931 Babe Herman
1923-1925 Jack Fournier
1916-1918 Zack Wheat
1904-1907 Harry Lumley
* * *
Jackson with details on Billingsley's deal: "He will receive $9 million in 2012, $11 million in 2013 and $12 million in 2014. The club option for 2015 carries a $14 million salary if it's exercised and a $3 million buyout if it isn't."
"It was a little bit of a compromise, but I'm happy with it and I believe they're happy with it also," said Billingsley, who is represented by agent Dave Stewart, a former All-Star pitcher himself. "They came to us at the beginning of camp. We kept talking back and forth over the course of spring training and we were able to work something out. Ultimately, it was my decision and what I felt was best for me and my family." …

"Being a pitcher, it's nice to have the security to fall back on in case something happens — because you only have so many throws in this arm," Billingsley said. "But I've been fortunate not to have too many health issues, except for hamstring problems.

"It's a blessing for this opportunity to come my way, and I'm going to continue to focus on what I need to do. I want to continue to get better. I haven't figured this game out. I'm still learning every day I step out on the mound."
* * *