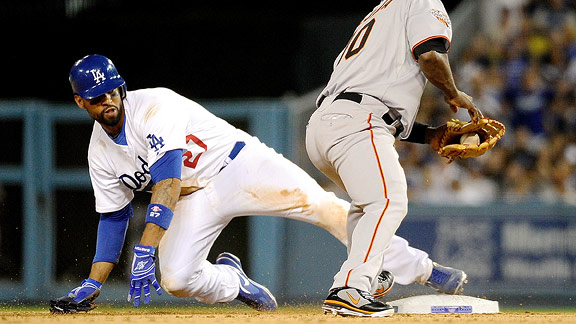 Kevork Djansezian/Getty ImagesMatt Kemp steals second base in the eighth inning with the Dodgers leading, 1-0.
Mostly lost in my Opening Day appreciation of Clayton Kershaw was the praise that Matt Kemp deserved for his single, three walks, stolen base and two runs. Fortunately, Ramona Shelburne of ESPNLosAngeles.com came through with a postgame feature.
I want to discuss the walks for just a quick moment. There's no doubt that they were a sign of discipline, but in my mind, they also reflected the fact that however maligned Kemp was for his 2010 backslide, the Giants clearly considered him the Dodgers' most dangerous hitter. Kemp himself said after the game that he wasn't given much to hit. I definitely got the sense that San Francisco was happy to face James Loney, even with Kemp on base, than take their chances on Kemp himself.
That of course could change, especially if we see more of what happened in Thursday's eighth inning: Kemp stealing second base easily, and Loney (after going 0 for 3 with Kemp on base ahead of him in the first, third and sixth innings) lashing a double to the short wall down the right-field line. It will be very interesting to see how this develops.