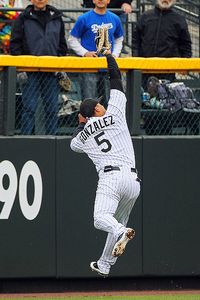 Doug Pensinger/Getty ImagesRockies outfielder Carlos Gonzalez robs Rafael Furcal of a potential game-tying double in the ninth inning of the Dodgers' 7-5 loss to Colorado.
As I wrote a couple of weeks ago, though I don't by any means rule out the Dodgers making a run for a division title, my feelings about this year's team are about as pessimistic as I've ever had since I began Dodger Thoughts. The reason: Not only does the pitching have to meet high expectations for the team to succeed, but the offense and defense both have to exceed expectations. Los Angeles just looks too slight a horse to bet the big money on.
Today's 7-5 loss to Colorado was but one game, one that will be forgotten as soon as the next one begins (two long nights from now), but it does illustrate my point. The great pitching faltered, as will happen, and the offense, despite home runs by James Loney and Rod Barajas and a triple by Casey Blake in his season debut, couldn't make up the difference. Bad timing? Sure, and for that matter, the Dodgers nearly pulled the game out in the ninth inning. But over the course of 2011, I don't foresee the Dodger offense exceeding expectations more often than the Dodger pitching falls short of them.
We heard a lot of talk about execution and aggressiveness in Spring Training, which is all well and good — being anti-execution is like being anti-breathing. But I tend to think that any team that is relying on execution to save its season is a team that doesn't have enough talent to succeed.
The Dodgers next head to San Diego's spacious Petco Park, where the pitching should flourish, to play a team that most of us feel will finish beneath the Dodgers in the standings. After that is a trip to San Francisco, to play a team that just lost three of four games to Los Angeles. So for all I know, the Dodgers will be back in first place in a week's time, showing renewed signs of contendability. But this remains a prove-it-to-me Dodger team, one that perhaps will be looking for players like Rubby De La Rosa or Jerry Sands to save it.