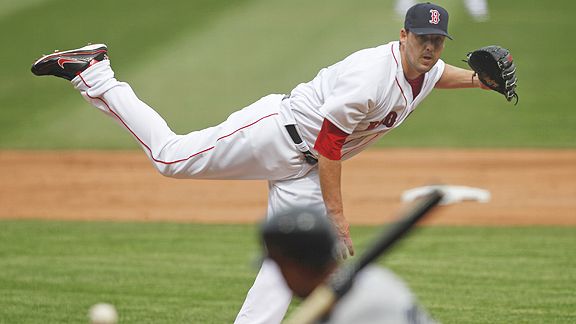 Charles Krupa/APThe 0-6 Red Sox scored seven runs for John Lackey today, and he needed them all to leave with the lead.
There's always going to be complaints about players the Dodgers should have signed but didn't, but I think we can eliminate one player from the list: John Lackey.
Having allowed six runs in five innings to the Yankees today, the 32-year-old Lackey now has a 4.83 ERA since signing with Boston before the 2010 season, and the Red Sox still owe him more than $60 million through 2014. Lackey is digging a hole for himself that I'm not sure he's capable of digging out of. From 2007-2010, his pitching performance declined each year.
I suspected it might be bad to sign Lackey, though maybe not this bad. From Dodger Thoughts, January 21, 2010:
"The Dodgers could have gone for the best free agent pitcher out there, John Lackey. But even if the team had a higher payroll limit, the health-vulnerable Lackey is no safe bet at the $82.5 million for five years given to him by Boston. You should basically assume he's going to be injured a good chunk of one of those years — meaning he's basically a $20 million-a-year pitcher in the others. Given what happened with Kevin Brown and (Jason) Schmidt, the Dodgers can't be faulted for looking the other way."