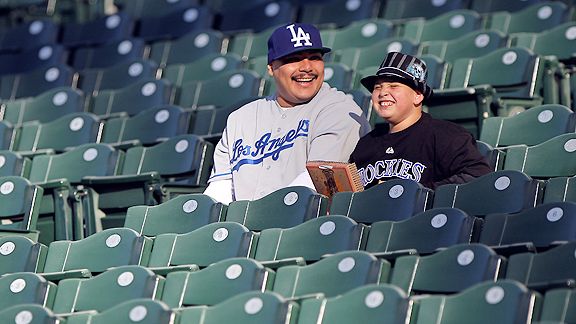 Doug Pensinger/Getty ImagesMichael Guerro and his son Isaiah Alvarez, 10, got early seats in preparation to support their teams at Tuesday's Dodgers-Rockies game.
Evan Bladh Sr. has a personal story to tell about fan violence: a grave incident in San Francisco, following Barry Bonds' 700th home run, that left Bladh's stepson seriously injured and a friend of his dead. Read it at Opinion of Kingman's Performance.
In Los Angeles today, there was a press conference discussing the latest measures to be taken at Dodger Stadium. In addition, the Dodgers are staging a fundraiser for beating victim Bryan Stow at Dodger Stadium from 8 a.m. to 3 p.m. Monday.
In San Francisco, ceremonies for the Giants' home opener included a moment of silence in support of Stow. Henry Schulman of the San Francisco Chronicle live-blogged.
* * *