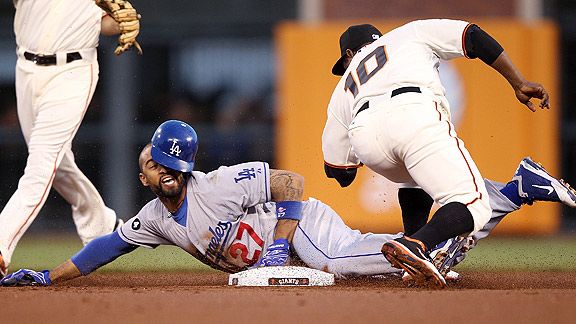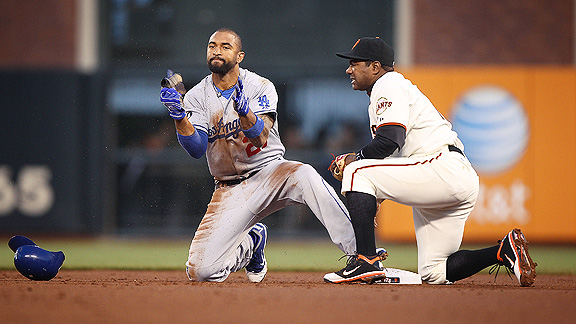 Jed Jacobsohn/Getty ImagesMatt Kemp and his helmet exult after stealing second base despite a pickoff.
Matt Kemp steals second base despite picking picked off first.
Matt Kemp scores from second on a James Loney line drive off the glove of the second baseman.
Matt Kemp walks for a second time after being down in the count 0-2.
Matt Kemp lines an RBI single that turns left fielder Pat Burrell into a jumping bean, with the ball skipping past him.
Matt Kemp is thrown out at third.
That last one was just to remind us that as long as you're pushing for Kemp to be aggressive, you're going to pay the price now and then. Nonetheless, 2011 has returned that Matt Kemp that everyone loves, and his role in the Dodgers' 6-1 victory Monday over San Francisco was the latest example.
You've heard of the eye in the middle of the hurricane? Matt Kemp is the hurricane that surrounds the eye.
Kemp, who went 1 for 2 with two walks, is boasting a .537 on-base percentage and .647 slugging percentage, not to mention a 1.000 stealing percentage on seven tries.
The stolen base was remarkable because the Giants did so much right and so little wrong. San Francisco pitcher Madison Bumgarner threw to first base as Kemp broke for second. First baseman Brandon Belt immediately turned and threw down to short. Miguel Tejada got the ball and put down the tag. And Kemp was just plain ol' safe.
So Kemp is back to outrunning his occasional mistake rather than eliminating them entirely, but I think we'll take that trade, especially with the way he looks at the plate. His seventh-inning strikeout was only his fourth in 41 plate appearances this season.
Kemp and Clayton Kershaw fought for the spotlight on Opening Day: Kershaw shone brightest then, and he just as easily could have tonight. He wasn't untouchable, allowing six hits and two walks in 6 2/3 innings, but he always had the right pitch when he needed it. Only one San Francisco baserunner made it past second base – Aubrey Huff with two out in the bottom of the fourth inning – at which point Kershaw annihilated Belt with three fastballs for strikes, the last two swinging.
Kershaw, whose seven strikeouts gave him 24 in 19 2/3 innings this season, faced 11 batters with runners on base tonight. Three of them hit the ball out of the infield: two singles, one flyout. He lowered his 2011 ERA to 1.37 and has now pitched 23 2/3 consecutive scoreless innings against the Giants. (His 117 pitches tonight were one shy of his career high.)
A third hero tonight was second baseman Jamey Carroll, who figures to play more shortstop soon with Rafael Furcal injuring his thumb while stealing third base in the Dodgers' four-run fifth inning and leaving the game an inning later. Carroll went 3 for 5, raising his on-base percentage for the season to .452. Andre Ethier's two hits put him at .442, while Rod Barajas hit what at the start of the fifth inning seemed a huge home run, giving the Dodgers a 2-0 lead.
And the slumping Uribe even contributed, going 1 for 4 but also making two nice defensive plays to support Dodger reliever Matt Guerrier in the eighth inning. Mike MacDougal gave up a homer to Burrell in the ninth – Burrell's third blast in five games against the Dodgers this year.
Colorado rallied for a 7-6 victory against the Mets, so the Dodgers remain in second place, 1 1/2 games back.
* * *
One might say it's a bit nervy, but then again, what hasn't been nervy in the McCourt divorce saga? The law firm that drafted the disputed agreement at the center of the court battle between Frank and Jamie McCourt is suing Frank, "asking a Massachusetts court to declare that the firm met its obligations and caused him no loss when it drafted a marital property agreement with his ex-wife."
As Josh Fisher of Dodger Divorce and Bill Shaikin of the Times note, there's more to it than that. Shaikin:

… Bingham McCutchen, the Boston-based firm responsible for the since-invalidated agreement that would have granted McCourt sole ownership of the Dodgers, essentially asked a Massachusetts court to deprive McCourt of the chance to sue the firm for malpractice should he lose control of the team.

"Any injury, loss or expense he has sustained or will sustain were caused not by Bingham's conduct, but by his own widely publicized financial problems, huge withdrawals of cash from the Dodgers, and strained relations with Major League Baseball," the suit alleges. "None of this is attributable to Bingham's work."

The suit also claims McCourt owes Bingham "hundreds of thousands of dollars in unpaid legal fees." …

… In a statement, McCourt spokesman Steve Sugerman blamed Bingham for preparing an agreement that did not stand up in court.

"Mr. McCourt is disappointed that the Bingham firm is unwilling to accept responsibility for its actions and is instead now trying to defend conduct that is indefensible," the statement read. …