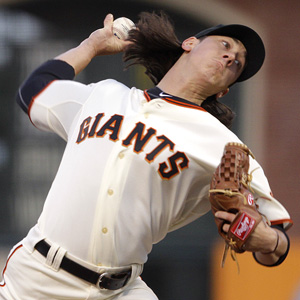 Eric Risberg/APTim Lincecum averaged more than 20 pitches per inning tonight.
It was hard to watch the Dodgers build a 3-0 lead against Tim Lincecum and then fail to hold it in a 5-4 loss, but I'm not going to throw Chad Billingsley under the bus for this one.
Billingsley was superb through the first three innings and kept making good pitches in the fourth, but the Giants hurt him anyway. Buster Posey's RBI single was on a pitch no higher than his knees, and Pablo Sandoval's RBI double came on one even lower.
Aaron Rowand's game-tying RBI single in the fifth was little different – a fastball down in the zone, a good challenge pitch that Rowand drove to left.
Obviously, Billingsley wasn't perfect. Posey's second RBI hit, giving the Giants a 4-3 lead, was a fastball up, leading to the last of the nine baserunners Billingsley allowed in five innings.  But the Dodger righty looked better on the field then he does in the boxscore – in fact, he looked better than Lincecum, who lasted only 5 1/3 innings himself while throwing 115 pitches.
The Dodgers came back to tie the game on Marcus Thames' pinch-hit homer in the seventh, but reliever Blake Hawksworth gave the lead back almost immediately on a Rowand triple and a wild pitch.
Giants closer Brian Wilson struck out Xavier Paul, Tony Gwynn Jr. (0 for 5) and Jamey Carroll in the ninth inning, thereby avoiding Andre Ethier and Matt Kemp. Ethier was 2 for 4 and robbed of a third hit when Lincecum dove at a ball that was hit off of him and threw Ethier out. Kemp was 2 for 2 with two walks (one intentional), raising his season on-base percentage to an astonishing .578. In at-bats, he is 17 for 36, one hit shy of batting .500.
Kemp was caught stealing for the first time this season.
* * *
Jerry Sands homered for the fourth straight game and doubled in Albuquerque's 18-3 victory over Iowa tonight. Dee Gordon had four hits, four runs and a steal.