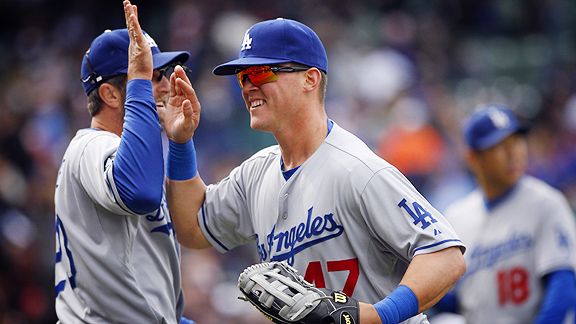 Charles Cherney/APCasey Blake wrist-fives Jerry Sands after the rookie outfielder threw out Aramis Ramirez in the sixth inning.
Jerry Sands has the most relaxed batting stance. His bat is slung low on his shoulder like a hobo's knapsack, projecting the calm of a traveler with little to his name but untold adventures ahead.
Sands has finished his first week in the big leagues, and like any vagabond's journey, it's had its highs and lows. There was his crowd-pleasing debut double, but soon after, an 0-for-16 skid with but a bases-loaded walk as a highlight.
Sands may yet end up back in the minor leagues before his career takes full flight – the same happened to predecessors like Matt Kemp, who continued to key the Dodger offense in today's 7-3 victory over the Cubs. Even after an RBI double in today's five-run first inning (not to mention an outfield assist in the sixth), Sands still only has a .502 OPS and has struck out in more than 30 percent of his at-bats. I'm not one for seriously reading tea leaves or batting stances, so I don't know if he has the bearing of a winner, a loser or something in between.
But I can tell you what I like to think. What I like to think is that Sands' travelin' man stance is a harbinger of his being in this for the long haul. I'd also like to think the same about his team.
* * *
So yes, the Dodgers jumped all over Carlos Zambrano today, with their first five batters reaching base and scoring, ignited by a leadoff triple by Aaron Miles (3 for 5 and yes, I'm aware of the timing).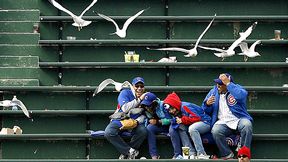 Charles Cherney/APIt was a duck-and-cover day in Chicago.
Casey Blake was hit by a pitch, though apparently having nothing to do with the little stolen-base dustup from Friday. Andre Ethier extended his hitting streak to 21 games with an infield single to drive in the first run, Kemp (like Ethier, 2 for 5) singled in Blake, Sands doubled in Ethier, and James Loney and Rod Barajas followed with RBIs to give the Dodgers 25 runs in their past 17 innings.
It appeared that Hiroki Kuroda might give it all back in the bottom of the first. Thanks to three hits and a Jamey Carroll error, two runs scored and Alfonso Soriano came to bat as the tying run. But Kuroda struck him out, just as he struck out two other batters in the first inning and seven overall in the first three innings. Kuroda ended up completing 6 2/3 innings, allowing two earned runs and nine hits while walking nobody.
In contrast to Saturday's eighth-inning collapse, Dodger relievers shut down the Cubs today, with Mike MacDougal, Blake Hawksworth and Jonathan Broxton combining for 2 1/3 innings and allowing two baserunners.
The Dodgers gained a game on Colorado and San Francisco, taking sole possession of second place in the National League West, three games behind the Rockies.