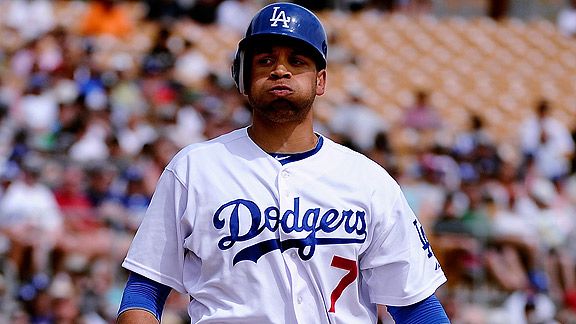 Kevork Djansezian/Getty ImagesJames Loney has 20 total bases (plus three walks) in 24 games.
Three years ago, Andruw Jones disgusted Dodger fans with the quality of his play. That 2008 season, like this one, started on March 31. Through games of April 25, Jones had one home run, a .264 on-base percentage and a .273 slugging percentage.
To James Loney, those numbers are a sight for sore eyes.
Loney singled home a run in Monday's game. That lifted his OBP on the season to .194 and his slugging to .213.
He is the worst-hitting regular in major-league baseball.
It's a nightmare, with few saving graces other than the fact that Loney is younger than Jones, gets paid less and doesn't smile uncomfortably to mask his pain.
The problem is not that Loney will hit this poorly forever – he won't. The problem is that it seems less and less unlikely that, after three consecutive seasons of decline from 2008-10, he'll take the step forward that the Dodgers have been counting on him to take.
If Loney can't offer better than the league-average hitting that has defined his past three years – and now he has even further to go to reach that goal – there's little chance the Dodgers can continue using him as their starting first baseman, whatever you think of him as a defensive player or RBI man. They will part ways with him after the season, if not sooner.
It pains me to say it because I've always liked Loney. As I said earlier this month, my theory is that the bid to coax more homeruns out of Loney has had the opposite effect, messing him up to the point where not only is he not hitting home runs, he's not hitting doubles either. Loney, who had 41 doubles in 161 games last year, has just one in 24 games this year, to go with his sole home run three weeks ago.
Or maybe it's just that pitchers have figured Loney out, and he is just at a loss to adjust.
Either way, Loney is a problem in search of a solution.
The Dodgers can keep playing him and hope their faith is rewarded with a recovery.
They can rest him, and hope that clearing his head leads to a recovery.
They can try to trade him, despite his horrible slump, perhaps selling another team on the theory, as Mike Petriello proffered at Baseball Prospectus, that leaving Dodger Stadium will accelerate his recovery.
Or, they can bench him.
If they look behind Door No. 4, what options would they find?
The on-again, off-again vision problems of Jay Gibbons might be off again – he has played in three games in a row for Albuquerque, going 5 for 13 with a double and a walk – but he's hardly built up a track record this year that would convince you he's not going to relapse. (By the way, has Loney had his own eyes checked?)
The youth, or youthier, movement could continue with Trayvon Robinson coming up from Albuquerque and Jerry Sands (or Andre Ethier, if Don Mattingly were so bold) moving to first base.
Sands moves to first base, and the Dodgers return to the Tony Gwynn Jr./Marcus Thames platoon.
Casey Blake could play some first base, though you lose some of his value moving him away from third base. This would become more viable once Rafael Furcal returns from the disabled list.
Not too thrilling, is it? We're at a point where a return of the merely adequate Loney would come as a great, if temporary, relief.