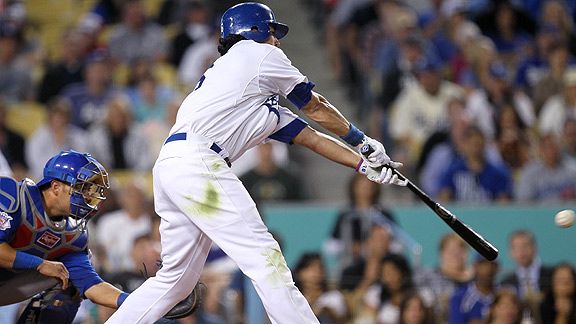 Stephen Dunn/Getty ImagesAndre Ethier's 28th straight game with a hit was barely within reach.
Streak of inches.
Two games in a row now, Andre Ethier has extended his hitting streak with a single off an infielder's glove: San Diego Padres first baseman Brad Hawpe on Sunday, and Chicago Cubs shortstop Starlin Castro on Monday night in the Los Angeles Dodgers' 5-2 victory over Chicago. Both plays were correctly called hits because each would have required an expert play to get Ethier, but that doesn't mean that Ethier isn't a little bit lucky that the expert plays didn't come.
As a result, Ethier is three games from tying Willie Davis for the Dodger record, 16 games from Pete Rose's post-1900 National League record of 44 and halfway to the hallowed ground of Joe DiMaggio's 56. It's crazy to think that Ethier can repeat what he's done to reach DiMaggio, but moments like those two infield hits certainly keep the dream alive.
Vin Scully and Prime Ticket noted in Monday night's broadcast that of the 42 hits Ethier has had during his streak, eight have been infield hits and four of those have kept the streak going. Considering Ethier's no speedster, that's quite a stat.
As for the game, it was a bit of an unusual night for Clayton Kershaw in that he didn't have a strikeout until the fifth inning. But after allowing three two-out hits for a run in the first inning, Kershaw (who walked none) breezed until giving up Alfonso Soriano's 11th homer of the year to lead off the seventh.
One out later, Kershaw put Don Mattingly in what has recently become a familiar position. Ex-Dodgers Reed Johnson and Blake DeWitt singled, bringing the tying run to the plate. In Kershaw's past three starts, Mattingly has tried to coax him to the end of an inning, only to see Kershaw give up multiple runs. Finally reversing the trend, Kershaw retired Starlin Castro and Darwin Barney to get out of the jam.
In fact, the Cubs didn't muster another baserunner again, with relievers Vicente Padilla and Jonathan Broxton finishing out the game on 19 pitches combined. The beleaguered bullpen really slammed the door this time.
As for the offense, Dodger rookies played a big role. After Matt Kemp singled, stole second and scored on Juan Uribe's double to tie the game in the second inning at 1, Ivan De Jesus Jr. got his first major league RBI by singling home Uribe with two out. In the fifth, Jerry Sands, who just missed his first big league homer in the first inning, stroked a nice two-out, two-run double — the sixth double of his young career — to right-center to give the Dodgers a 4-1 lead. Sands took third on an error and scored on Ethier's hit.
Sands started at first base in place of James Loney, whom Tony Jackson of ESPNLosAngeles.com reports isn't going to be platooned but is being asked to stop hitting fly balls to left field.
In other news:
The Dodgers are offering members and veterans of the military and their families free tickets to Dodger Stadium for the month of May. Details:

All members of the joint services with a valid military ID, including active, reserve and retired veterans as well as their dependents, may take advantage of this offer by showing their military ID at any Dodger Stadium ticket booth day of game. Each military ID will be good for two complimentary tickets, based on availability.

The Long Beach Press-Telegram has eliminated its sports department, outsourcing sports to the Daily Breeze, according to the Long Beach Post (via L.A. Observed). Frank Burlison, Bob Keisser and Doug Krikorian are among those whose jobs are up in the air.