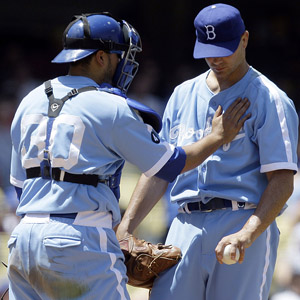 Reed Saxon/APDioner Navarro tries to settle staring pitcher Ted Lilly in the sixth.
A grim morning of injuries bled into a grim afternoon for the Dodgers today.
Ted Lilly matched zeroes with Carlos Zambrano for four innings, before homers by Geovany Soto in the fifth and Carlos Pena and Marlon Byrd (with two on) in the sixth sent Lilly and the Dodgers to a 5-1 defeat.
To add to the Dodgers' woes, in the fourth inning, Juan Uribe was hit by a pitch for the fourth time this season, then later apparently spiked in the same spot on his left hand. He left the game in the sixth inning. If he misses any more time, it will be the third injury to sideline him in this still-young season, and the Dodgers would once again be down to one starting infielder.
For good news, we'll turn to Hong-Chih Kuo, who walked the first batter he faced in relief of Lilly on four pitches but then retired the next three, two on strikeouts. Mike MacDougal and Vicente Padilla also pitched shutout relief innings as the Dodgers awaited word on Jonathan Broxton's MRI.
The Dodger offense was limited to a sixth-inning leadoff double by Tony Gwynn Jr., a single by Aaron Miles (2 for 4) and a sacrifice fly by Jay Gibbons. James Loney (2 for 4) and Dioner Navarro were the only other Dodgers with hits, and Gwynn had the only walk off Zambrano, who threw 107 pitches over eight innings and struck out four.
Matt Kemp went hitless, as did Russ Mitchell, who started the game at third base and finished it in right field. There was never really a situation where Don Mattingly had to think about inserting Andre Ethier and his 29-game hitting streak as a pinch-hitter.