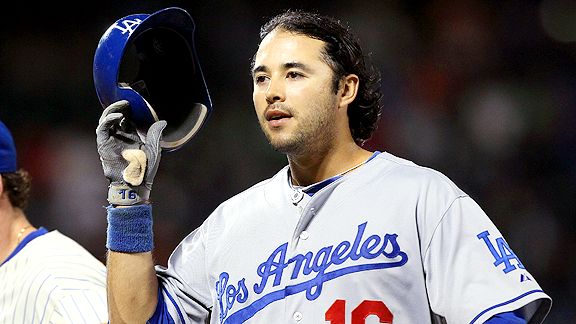 Jim McIsaac/Getty ImagesAndre Ethier reacts after the third of his four outs tonight in New York.
On September 3, 1969, the Dodgers and Mets were tied heading into the ninth inning with a Dodger outfielder hitless in his bid to extend his hitting streak to 31 games.
It looked like the same thing might happen tonight … but the Dodgers and Andre Ethier came up short.
New York broke a tie with two runs in the bottom of the eighth inning, and Ethier watched Los Angeles go quietly in the ninth after going 0 for 4 with a walk, and so the only streak of note extended this night was the Dodgers' losing streak to four with a 4-2 defeat.
Ethier, who struck out against lefty reliever Tim Byrdak in his final at-bat with a runner on first in the eighth inning, needed eight batters to come up in the ninth inning once the Mets broke the 2-2 tie.
After pitching a shutout seventh inning, Dodger reliever Mike MacDougal walked leadoff batter Jason Bay in the bottom of the eighth and was replaced by Hong-Chih Kuo. Ike Davis popped out, but then Kuo threw everything into chaos by throwing away a sacrifice bunt by Jason Pridie, leaving the game with two runners on and one out. (Aaron Miles backed up Kuo's throw to prevent further damage at the time.) The third reliever of the inning, Matt Guerrier, walked Ronny Paulino to load the bases.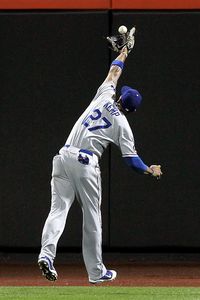 Jim McIsaac/Getty ImagesMatt Kemp comes up short in on Justin Turner's fly in the bottom of the eighth.
On a 1-0 pitch, pinch-hitter Justin Turner hit a deep fly to center that was catchable but certain to score one run. As it happened, the ball went off Kemp's glove as he went back on the ball, giving the Mets a two-run cushion. Jose Reyes lined into a double play, but the damage to Ethier's hopes had been done.
There were four extra-inning games in Joe DiMaggio's 56-game hitting streak, but according to a September 1975 issue of Baseball Digest, he didn't need extra innings to extend his streak. He had two hits in two of those four games. Like DiMaggio, Pete Rose played in extra innings during his 44-game hitting streak but did not need overtime to keep streak going.
Ethier got five chances tonight because the Dodgers were so adept at putting runners on base – but unfortunately, weren't so skilled at driving them home.
The Dodgers left the bases loaded in the first, second and seventh innings. They were 1 for 10 with runners in scoring position Friday, and you know, that happens. But it's unfortunate to follow it by going 1 for 13 the next night. The Dodgers stranded 14 runners in tonight's game.
Ethier walked after swinging at the first two pitches of emergency starter Dillon Gee in the first inning, flied out with the bases loaded to end the second inning, flied out leading off the fifth and grounded out against left-handed reliever Mike O'Connor to end the sixth.
Reyes' RBI single capped a two-run second inning off Jon Garland (six innings, 10 baserunners, three strikeouts). After the first pitch to the next batter, David Murphy, on TV you could see Dioner Navarro quickly nod in first baseman James Loney's direction.  Following the next pitch, Navarro nonchalantly tossed the ball to Loney, picking off Reyes, who didn't see it coming until it was far too late.
Two innings later, Navarro popped a home run down the right-field line to give the Dodgers their first tally, and in the sixth, Miles followed Jamey Carroll's single and Garland's sacrifice with an RBI single to tie the game.
That's the way it stayed for a couple more innings, at a time when it looked like Ethier might have all night to tie the 3-Dog. It was not to be, but my goodness, congratulations to Ethier for making it that far.
But now, what will distract us from how poorly things are going for the Dodgers?