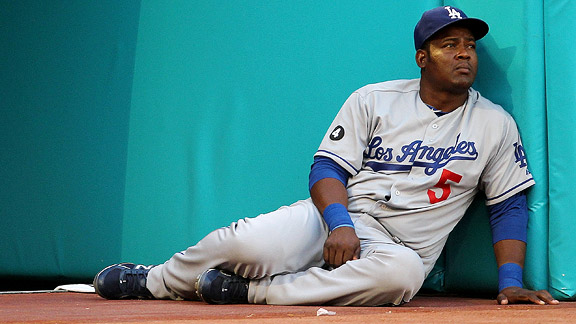 Mike Ehrmann/Getty Images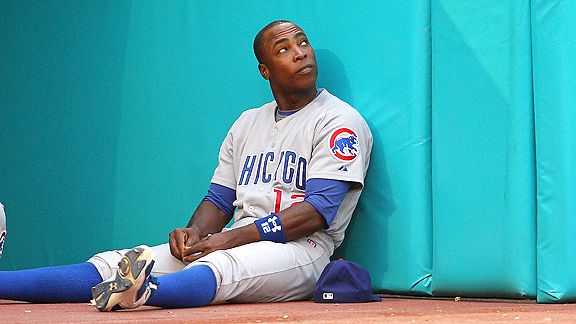 Mike Ehrmann/Getty ImagesEven Alfonso Soriano of the Cubs is concerned about the state of mind of Juan Uribe and the Dodgers.
The Los Angeles Dodgers, who have the 14th-best record in the National League and are tied for 25th in the majors, will try to avoid falling into last place in the NL West while playing in their longtime chamber of horrors, the American League.
Eric Stephen of True Blue L.A. offers a glimpse of how awful the Dodgers have been on the road in interleague play: an 11-37 record since 2005, outscored by exactly two runs per game. In 2009, the Dodgers managed to go 5-4, leaving them 6-33 (.254) in the other seasons. That projects to 25 wins per 162 games.
Fortunes can change at any moment, but some moments seem more likely than others. This is a Dodger team that has had trouble filling out eight spots in a batting order — the idea of a ninth is practically comical, although more often than not it figures to involve Tony Gwynn Jr. playing in the field and a starting or backup outfielder filling the DH spot.
The best news for the Dodgers is that they won't need to pinch-hit for any pitchers (unless Chad Billingsley DHes.) The pitching remains relatively strong, with rookies Kenley Jansen, Scott Elbert and Javy Guerra combining for a 0.00 ERA and 15 strikeouts in 9 1/3 innings this month.
Chicago has the same 20-25 record that the Dodgers have — if you're interested, the White Sox were an MLB-best 15-3 in interleague games last year. So the Dodgers shouldn't be scared, but it won't be a surprise if, after the 19-25 Padres are done hosting the 19-24 Mariners later tonight, Los Angeles is looking up at everyone in the NL West.