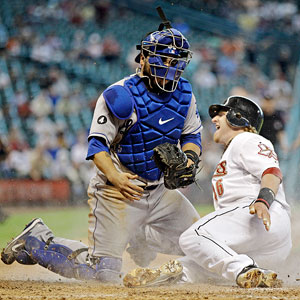 David J. Phillip/APDioner Navarro dove just in time to tag J.R. Towles and rescue a later defeat from the jaws of an earlier defeat.
There were some bright spots today. And most days this year with the Dodgers, isn't that all we can look for?
Matt Kemp singled, doubled and homered. Dioner Navarro went 2 for 4 and made a run-saving tag at the plate on a potential wild pitch. Javy Guerra came right back from his Tuesday save with a shutout inning.
But even though the sun occasionally peeks through, just for a moment here and there, the fog won't lift on this Dodger team, which fell to 22-29 with a 2-1 loss in the bottom of the ninth.
J.R. Towles, who had the game-winning hit and went 3 for 4, had been in an 0-for-32 slump entering the game.
Get slapped in the face enough times, it can even make you laugh …