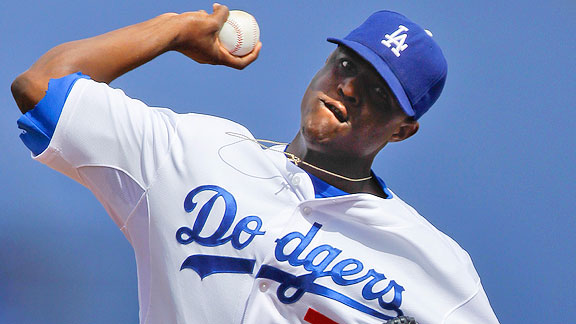 Julie Jacobson/APRubby De La Rosa
So, let's say, just hypothetically …
… just hypothetically, mind you …
… that the Dodgers don't reverse their ugly 2011 start and reach the playoffs.
I mean, I know it's crazy, but what if an injury-riddled team with almost no offense keeps losing?
What might happen with this roster?
For starters, there's always the possibility that Dodgers general manager Ned Colletti will try to make a midseason deal to strengthen a playoff bid, as he has done every year of his tenure, with everyone but Zach Lee and Rubby De La Rosa serving as potential trade chips. But under Colletti, the Dodgers have never entered July with a double-digit deficit in the playoff races, and that obviously seems like a much more distinct possibility in 2011. That could dissuade Colletti from his typically go-for-it mentality.
Conversely, if the Dodgers' fade-out continues unabated, Colletti could take the opportunity to do what is never done in Los Angeles and jump start a rebuilding program with the trade of any number of veterans to serious postseason contenders for prospects.  The conventional wisdom is that the bulk of Dodgers fans won't tolerate a rebuild, but given what they're already putting up with and how attendance is already in decline, it's not as if much more damage can be done. And really, you have to be pretty myopic not to see the potential benefits of this path.
It wouldn't surprise me, though, if Colletti gets caught in between the fork in the road and ends up largely standing still. Whether or not that turns out to be the case, it's as good a launching point as any for our "what next" speculation.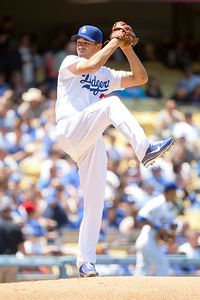 Brian Mount/Icon SMITed Lilly
Starting rotation
In the short term: The most stable part of the team this year has needed only one substitute, John Ely in the first week of the year. Ely is around if a spot start is needed, while De La Rosa would also be a candidate to be a replacement. Keep in mind, however, that De La Rosa only threw 110 1/3 professional innings last year and has already thrown 41 this year, counting his major-league debut Tuesday — they should be looking to protect him.
In the long term: Clayton Kershaw, Chad Billingsley and Ted Lilly will return next year, with De La Rosa poised to join them. Hiroki Kuroda will be a free agent, and Jon Garland has an $8 million vesting option that the Dodgers will probably be able to buy out, since he doesn't figure to reach the required 190 innings. As was the case last year, the return of Kuroda (37 in February) will probably depend on his willingness to do a one-year deal in the U.S., while Garland would probably also have to agree to a similar contract as he had this year, which calls for a lower base salary plus performance incentives.
The imminent arrival of De La Rosa could allow the Dodgers to pit Kuroda against Garland in a negotiating stance — they make offers to both, and whichever one agrees first would get the deal. If neither one bites, the Dodgers would seek out a veteran starter, to give De La Rosa a cushion and provide depth in a place where Colletti most values it. (It would be encouraging if Lilly, 36 in January, showed some improvement between now and next year.)
Also, if injuries don't hold him back, Lee could be in Double-A by the start of 2012 and in the majors by the end, if Clayton Kershaw's path is any model. We'll see.
Bullpen
In the short term: Expect the revolving door to continue, not just as players like Blake Hawksworth, Vicente Padilla, Jonathan Broxton and hopefully Hong-Chih Kuo return from the disabled list, but as the team decides whether Kenley Jansen, Javy Guerra, Scott Elbert or Ramon Troncoso need to spend more time in the minors. Josh Lindblom, who had 30 strikeouts in 22 2/3 innings for Double-A Chattanooga through Saturday, could get his long-awaited first shot in the majors, while other non-roster players like lefty Cole St. Clair (1.02 ERA, 16 strikeouts, 12 baserunners in 17 2/3 innings) wait in the wings. And there are always names like Jon Link …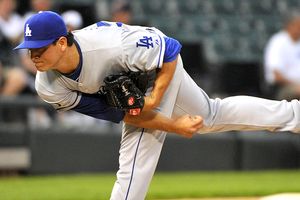 Rob Grabowski/US PresswireJavy Guerra
In the long term: Even if he returns this season at peak performance, Broxton will be a free agent at the end of the year. If he's great, the Dodgers won't be able to pay for him, if he's not great, the Dodgers won't want to pay for him. Padilla will also be a free agent, and the Dodgers will probably be out of patience with his inconsistent health. Mike MacDougal qualifies as a pleasant surprise, but if he asks for seven figures in salary for 2012, the Dodgers might balk.
Kuo will be arbitration eligible and stand to earn a big raise – his mental and physical condition makes him a non-tender candidate, although if there's any sign he's conquered his anxiety disorder, he might be the reliever they decide to reinvest in.
Most likely to return are Hawksworth, Matt Guerrier and the rookies including Jansen, Elbert and Guerra, with the Dodgers patrolling the major- and minor-league free agent market for their usual host of candidates.
Further down the line, the Dodgers will keep their eyes on Steven Ames and Shawn Tolleson – the latter continuing his strikeout-mad ways with 13 in 7 2/3 innings since his promotion to Rancho Cucamonga.
Though the bullpen has been a lightning rod for discussion this year, this is not the place for the Dodgers to spend a high portion of their resources. They have bigger fish to fry.
Catching
In the short term: A.J. Ellis stands by, waiting for the next disabled list trip for Rod Barajas or Dioner Navarro.
In the long term: Navarro has done little to indicate he was worth his 2011 contract, let alone that he'd be worth a 2012 deal. Ellis, who will finally be out of options just before his 31st birthday, figures to settle in at last on the major-league roster. Barajas, 36 in September, will be a free agent, and though he is currently second in the team in home runs, it's anyone's guess whether the Dodgers will bring him back. You can't rule it out, but the Dodgers will consider alternatives.
In the real long term, the Dodgers might finally have a new catching prospect in 23-year-old Gorman Erickson, who had a .991 OPS for Single-A Rancho Cucamonga, relying (as Ellis does) on plate discipline rather than power. But Erickson's numbers will diminish once he leaves the friendlier confines of the California League for Double-A. Maybe he, too, will become a full-time backup in about five years.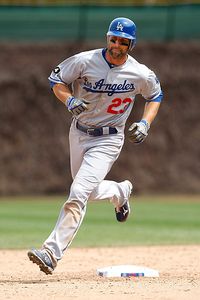 Scott Boehm/Getty ImagesCasey Blake
Infield
In the short term: Injuries will likely dictate playing time for the remainder of spring and on into the summer. But should Casey Blake, Rafael Furcal and Juan Uribe actually end up on the active roster at the same time next month, it doesn't mean the end of Jamey Carroll's playing time. The indispensable, no-longer-a-reserve Carroll has been too productive to sit. Carroll can give those other three players rest, and if that also means Blake moves around to play some first base, so be it.
Aaron Miles, on the other hand, could go back to sixth-infielder status, which suits him, and Russ Mitchell would go back to the minors. Juan Castro can go and clear waivers.
On the other hand, if the injuries continue, we'll just see more of what we've seen, with Ivan De Jesus no doubt making a return appearance at some point.
In the long term: Overhaul. Loney, due for one more arbitration-eligible raise despite his most disappointing season, will be jettisoned unless he shows some hint of power. Even his mainstream reputation as a clutch hitter has been scarred. Blake has a $6 million club option, too rich for a 38-year-old who will be a part-timer. Same story with Furcal's $12 million club option. That leaves only Uribe among the nominal starters.
Carroll will be a free agent – and he'll also be 38. This has been a happy marriage, and I actually like the odds of his returning, but he will get other offers. In any event, as great as he has been in 2010-11, it'd be risky to count on him as a starter in 2012 – though perhaps you could use him as a stopgap until minor-leaguer Dee Gordon is considered ready.
But will Gordon be ready next year? With a .735 OPS and 10 errors so far in his first 40 Triple-A games, there's no way you can pencil him into the 2012 Dodger starting lineup. De Jesus also seems like a longshot to do much of note in the majors next year, if ever.
Although Jerry Sands could hold down left field, one option for the Dodgers would be to move him to the infield, where the team is much thinner. Uribe would take a second position, while the Dodgers look outside the organization for help at the two other spots. Gordon, though some might not want to hear it, could be a trade chip.
A late-breaking candidate is Scott Van Slyke, who has been playing first base for Chattanooga after starting his pro career as an outfielder. Van Slyke, 25 in July, had a .954 OPS (fifth in the Southern League) with 16 doubles in his first 42 games this year.
Outfield
In the short term: Matt Kemp, Andre Ethier and Sands, who is platooning with Jay Gibbons. Sands looked ripe to go back to Albuquerque just a week or two ago, but that notion has changed dramatically. A healthy Marcus Thames could still knock Sands down to Triple-A temporarily, but there's going to be much more resistance to that happening now. Sands could also enter the infield mix even before 2012.
In the long term: Kemp for sure. Ethier, probably. The outfielder certainly won't be non-tendered, and he is as likely to get a multiyear deal as any other fate. That doesn't mean Ethier, 30 in April, couldn't be a trade candidate in 2012, the year he becomes eligible for free agency, but as noted recently, that's not the type of trade the Dodgers have been making.
So there's Sands, or if he moves to the infield, Trayvon Robinson could get a shot. Roster expansion in September should provide an early peek at Robinson.
Summary
The Dodgers will need at least one front-line starting pitcher next season, whether it's Kuroda, Garland or someone else, with an eye on possibly two. No walk in the park, but simple enough.
The starting lineup is another story. You have Kemp, Ethier and (grumble) Uribe. You probably have Sands. Maybe Carroll. Then your next two in-house options to start are Ellis at catcher and either Robinson or Van Slyke. If desperate, the Dodgers could resurrect the Sands-to-third idea.
The point is, the Dodgers are going to make some big moves in the offseason, otherwise their 2012 starting lineup could look like this:
Carroll, SS
Robinson, LF
Ethier, RF
Kemp, CF
Sands, 3B
Uribe, 2B
Ellis, C
Van Slyke, 1B
It's gonna be an interesting offseason … five months from now.