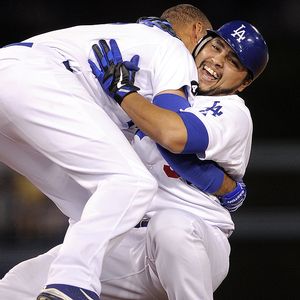 Mark J. Terrill/APDioner Navarro doesn't mind this collision at home.
At the end, it was less a victory than an exorcism.
The anti-homer curse against James Loney – gone. Andre Ethier's near-month-long power outage – gone.
And the electrified way the Dodgers poured out of the dugout after Dioner Navarro's game-winning pinch-hit single in the bottom of the ninth gave them a 3-2 victory over Florida, the way Matt Kemp came over not just to praise Navarro but to bury him in his arms as well, showed a group of players keen and desperate to get about a thousand monkeys off their backs.
The easy argument is that the Dodgers have stopped caring, in the wake of their obvious flaws, ceaseless injuries and exhausting off-the-field drama. None of those issues have gone away, but if they didn't care about winning, they wouldn't have been so over the moon about a victory that only raised their record to 23-29.
They have been fighting – other teams as well as themselves. There were the two rallies against San Francisco last week, followed by the shocking, Russ Mitchell-led comeback against the White Sox. They were one strike away from victory against Houston on Monday, then lost in the bottom of the ninth, then did so again Wednesday.
They haven't won a game by more than two runs since May 17. They haven't won a game by more than three runs since May 10. They've still only won nine games in a month that has been uphill since it started with a 7-0 loss to San Diego.
They can't even claim the most exhilarating win in the National League West on Friday – finishing third behind Arizona rallying from a 6-0 deficit against the Astros and the Giants riding a grand slam from a player in his first major-league game to a comeback victory over Milwaukee.
They just suit up with the understanding that every game counts.
When Ethier's pinch-hit single gave the Dodgers a short-lived lead in Houston on Monday, Clayton Kershaw roared in elation. When Ethier hit his home run in the sixth inning, Aaron Miles lifted Jamey Carroll so high, he nearly threw him over the dugout. When Navarro delivered what was only the seventh hit all year by the Dodgers with the bases loaded, you'd have thought they'd broken the bank in Vegas.
They care as much as you do, if not more. This is a team dying to make something happen, if only it can.