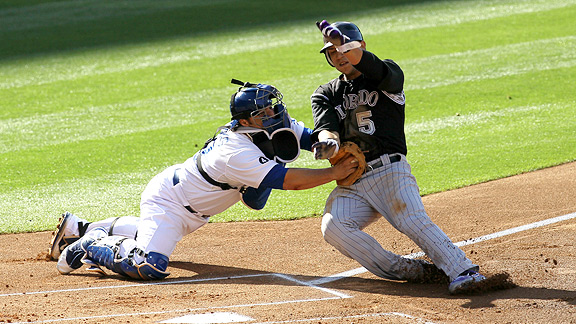 Stephen Dunn/Getty ImagesMatt Kemp's throw to Rod Barajas nailed Carlos Gonzalez at home in the first inning.
The Dodgers were up by six when it happened, so it wasn't the biggest moment in the game (see above for the answer). But …
Chad Billingsley had already thrown 99 pitches and scattered a career-high 11 hits, including allowing the leadoff man for Colorado to reach base in six consecutive innings, when he followed a visit to the mound from pitching coach Rick Honeycutt by walking Carlos Gonzalez to load the bases with one out in the top of the seventh. I'm one of Billingsley's biggest fans, but with Troy Tulowitzki coming to bat, I was almost sure it was time to go to a Dodger bullpen that was rested from Clayton Kershaw's complete game Sunday. Despite the loss of five relievers to the disabled list and a sixth to the restricted list, it seemed obvious that Don Mattingly should go for a fresh arm to protect the 7-1 lead and protect Billingsley's eight-strikeout outing.
Billingsley stayed in, and four pitches later, Tulowitzki grounded into an easy Rafael Furcal-to-James Loney double play. I love when feeling wrong feels so right.
And despite my misgivings about this team – and keep in mind, even with this 7-1 Dodgers victory tonight, Los Angeles is only 8-10 since I voiced my big fear that this is the worst Dodger team since 1992 – this whiff of hope that has come from the past two games is a tasty amuse bouche of crow.
If nothing else, thank goodness for the respite from negativity that the last two games have provided. A day after Kershaw's two-hit shutout, the Dodgers gave up 14 knocks – and still allowed only one run. Los Angeles went 4 for 4 with runners in scoring position; Colorado went 1 for 12. Rafael Furcal has entered the Rafael Furcal Zone, going 2 for 4 to reach 7 for 13 over his past three games. Andre Ethier is 9 for 15 with five walks (that's a .700 on-base percentage, friends) since he banged into the wall in Chicago and got four days of rest from regular play.
And are you ready for a hot, or semi-hot, James Loney? Two homers in his past four games, including a two-run shot tonight, and 26 for 84 with seven walks and only four strikeouts since May 3 – a .370 on-base percentage and .440 slugging percentage. It's not Gil Hodges, but a .810 OPS for this offense will cure some amount of ills.
Those who wanted to start the rebuild on Juneday, the National League West and the Dodgers' recent show of extreme competence have conspired against them. Say hi to the hottest 25-30 team in baseball.
* * *
Tommy Lasorda, 83, is resting at home in recovery from a bacterial infection that sent him to the hospital for four days last week.
There was a second, smaller fire this morning in the same spot of Dodger Stadium as the bigger fire during Saturday's game.