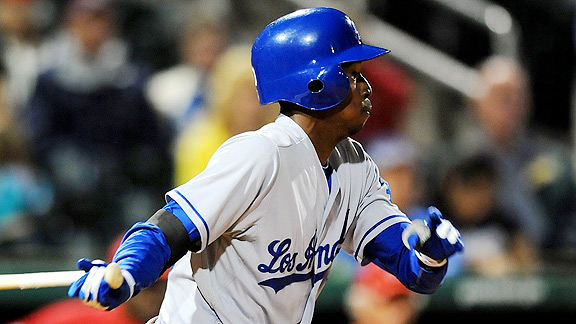 Norm Hall/Getty ImagesUnderneath that helmet is newest Dodger major-leaguer Dee Gordon.
Jerry Sands getting an early promotion to the bigs didn't surprise me much. Nor did Rubby De La Rosa.
But Dee Gordon getting the call — now that's a commitment to youth.
With Rafael Furcal once again relegated to the disabled list for weeks, the Dodgers have called up the 23-year-old Gordon from Albuquerque, where he had a .361 on-base percentage and 22 steals in 25 attempts, but also only 14 walks and nine extra-base hits (.370 slugging) in 50 games. (Tony Jackson of ESPNLosAngeles.com has the news story.)
Gordon has also had many questions about his fielding, particularly his ability to make the ordinary play (as opposed to the extraordinary one). On the bright side, his surge of errors in April has slowed considerably.
Additionally, it's worth noting that while everyone has always raved about Gordon's blinding speed, that .880 stolen-base percentage is a new bright spot. No one's expecting power from Gordon, so if he can just get on base and stay out of his own way defensively, he could be a thrill to watch.
Gordon is not in tonight's starting lineup, but unlike with someone such as Ivan De Jesus, Jr., you don't call someone like Gordon up to ride the bench. Cynics might wonder if Gordon is being showcased for a trade, but I've never gotten the sense he's someone the Dodgers want to part with.
To make room for Gordon and Marcus Thames, who was activated from the disabled list, the Dodgers designated Juan Castro and Jay Gibbons for assignment. This is also something of a surprise, given the Dodgers' proclivity to protect depth — and by 2011 Dodger standards, the .668 OPS for Gibbons and .619 OPS for Castro aren't the worst you could imagine. Sands could easily have been sent to the minors. But clearly, general manager Ned Colletti buys into the reality that they're not going to miss much by losing Castro and Gibbons. (There's also the not-slim possibility that the pair could end up back in Albuquerque if they clear waivers.)
Perhaps the way the young Dodger bullpen replacements have risen to the occasion has influenced Colletti.
Finally, the Dodgers optioned John Ely and De Jesus to make room for the return of Blake Hawksworth and Juan Uribe from the DL.
On the current 25-man active roster, 15 are below the age of 30.
* * *
Three years ago, I transcribed a Vin Scully excerpt on the anniversary of D-Day. This rubbed some people the wrong way, and a long discussion ensued in the comments of that thread. Just want to link to it to say I hadn't forgotten what Scully said, nor the response that followed. It was a learning experience for me.