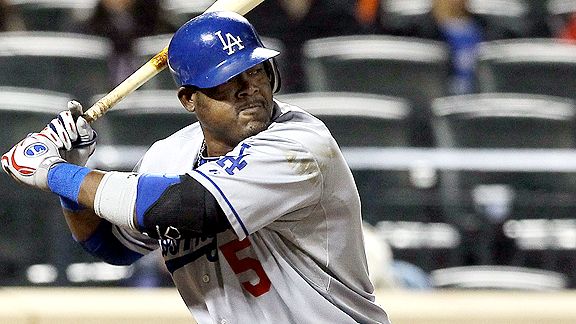 Jim McIsaac/Getty Images (file)Juan Uribe has three doubles and zero home runs in his past 75 at-bats.
There was no mistaking the foreboding, the fear threatening to smother the excitement.
Andre Ethier doubled, and Matt Kemp singled him to third with none out in the seventh inning and the Dodgers trailing Cole Hamels, 1-0 … but the next three batters were Juan Uribe, Marcus Thames and Rod Barajas.
All three are hitters who have produced in the past. But these guys against Hamels at the top of his game, that was going to be an uphill climb, with full packs, in the heat, on a muddy trail, with the sun in their eyes, with aliens firing lasers all around, while having to listen to Wham! – just to even get a sacrifice fly or RBI groundout.
They failed – Uribe spectacularly so, popping up on the first pitch before Thames struck out and Barajas also popped out. And that was followed by wasted baserunners in the eighth and ninth innings of what became a 2-0 loss to Philadelphia.
* * *
This was not a loss that I think twice about.  The Dodgers fell to one of their toughest opponents, on the road and with an offense that, despite its occasional spurts of greatness, is mostly, objectively awful. That's not news.
If Los Angeles had won, that would have made me think twice about this team.  A victory would have given the Dodgers' four straight series wins, two of those series on the road against division champions from last year, including one series against the best starting pitching east of Yosemite. An 8-4 record in their last 12 games, against mostly good competition.
In a 162-game season, a road loss to Phillies means next to nothing. Hiroki Kuroda vs. Hamels in Philadelphia is not a game that the Dodgers would have been favored to win even if they were in first place. But at the same time, if something's going to change my opinion that this team doesn't have the strength to seriously compete this year, then it's going to have to be something not just dramatic, but kind of epic. It's going to have to be more than 7-5 in their past 12, no matter the competition. It's going to have to be more than a massive comeback from down five runs in the eighth inning against the Reds. There has to be more than a mere flashes of greatness. There has to be something sustained. Even then, there would be doubt, but there'd be more than just blips.
If even the losers get lucky sometimes, then you can't decide on a moment's notice that a loser has become a winner.
And believe me, I know the division looks weak. Frankly, the entire National League doesn't strike me as all that wonderful. I know everyone's unhappy about tonight's game, but let's look at it another way – if Hamels gives up a hit to a guy hitting about .220, the Phillies are poised to drop two of three to a sub-.500, offensively challenged NL West team.
The weaker the league, the easier it is you to compete – but also, the easier it is for other mediocre teams. Nearly every Tom, Dick, Harry, Orson and Mary Beth has a right to think they can win this year. So this isn't really about worrying that the Dodgers would sneak into the playoffs only to be swept in the first round. This is about worrying that, just like in 2005, there's a land of opportunity out there, but this covered wagon still doesn't have the horses even to make it past the Appalachians.
* * *
My theme for this year has been that the Dodgers need everything they can to go right. No margin for error. Despite some of the season's most exciting moments coming in the past two weeks, it's still not happening. First base and left field are still nightmares, catcher is close to it, third base is heading in that direction. We're faced, for example, with the burning (not in a good way) question of whether Aaron Miles is actually better than Uribe.
The young replacements in the bullpen have been practically spectacular, as has Matt Kemp. The starting pitching remains as good as advertised, and Andre Ethier, though his home-run power has gone AWOL, is still productive. The defense has been better than expected.
It's still not enough. We're now in the third month of the season. Where's the extra help going to come from?
Will James Loney, Uribe, Thames (6 for 42 with two walks in 2011), Barajas (7 for his last 49 with a walk and two doubles) and Jerry Sands (3 for his last 35 with two walks) pull out of their slumps?
Will Dee Gordon be a game-changer, at least until Rafael Furcal comes back? Will Furcal come back?
That's a lot of guys who can help – if they can help. But what I find is that we're asking mostly the same questions we've been asking for some time now. Those questions will not go away overnight.
Years ago, I wrote that if you're asking "Does this win mean the Dodgers have turned the corner?" then you know the team hasn't done so. If you have to ask, it hasn't happened. It means the losing is still too fresh. You'll know subconsciously your team has turned the corner when it doesn't occur to you to wonder.
The Dodgers have had a decent road trip, a decent past couple of weeks. But they are still on the other side of the street.