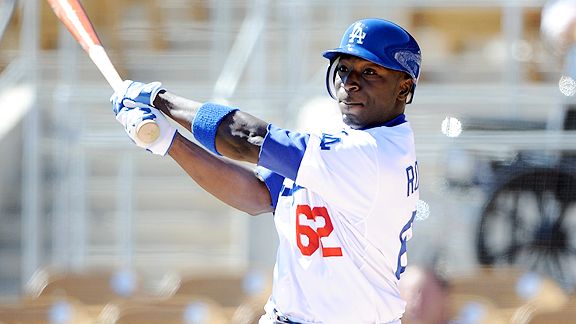 Harry How/Getty ImagesTrayvon Robinson
Any notion that the Dodgers were going to hold back on pushing young players to the big leagues this season was left sittin' on the dock of the bay once Los Angeles promoted Jerry Sands, Rubby De La Rosa and Dee Gordon ahead of schedule.
So it's natural to ask if outfielder Trayvon Robinson will also get an early wakeup call. We know the Dodgers originally intended for Robinson to spend the season in the minors, but that was then. What about now?
Playing center field for Albuquerque, Robinson has a .341 on-base percentage and .519 slugging percentage this season, with 12 homers and seven steals in nine attempts. Outside of the baserunning, those numbers are considerably better than what Gordon had to offer when he took over major-league shortstop duties (for the time being), but they sit pretty far below what recently promoted Trent Oeltjen (.429/.583) was producing.
Few will argue that Oeltjen has a brighter future than Robinson, but in terms of the present, there wouldn't appear to be an imperative to rush Robinson to the majors. The 23-year-old Robinson also has had some pretty significant plate discipline issues this season, with 17 walks against 64 strikeouts for the Isotopes.
Still, there are questions. We're told that Tony Gwynn Jr. and Marcus Thames will now platoon in left field, with Oeltjen mixing in as well, but it's anything but clear that it's a long-term arrangement. If none of them show anything with the bat, it's going to be harder and harder to understand why Jamey Carroll (or even Aaron Miles, for all his weaknesses) should be sitting. That's why I think you could ultimately see an infielder get some time in the outfield, whether it's Casey Blake, Carroll or Miles.
And then again, maybe we'll still see Robinson this summer. The Dodgers could have stuck with Carroll and Miles rather than turning to Gordon, whose abilities are still developing. There may be the sentiment that in the absence of thrilling alternatives, another kid will get his taste, even if it's only for a few weeks.