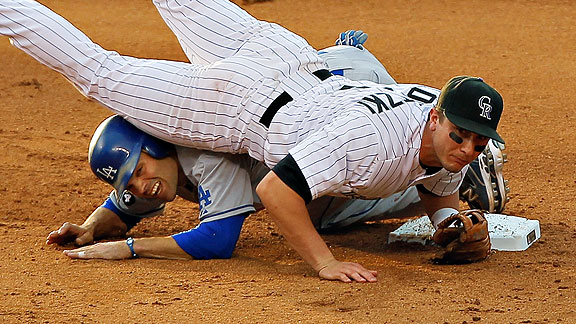 Justin Edmonds/Getty ImagesJamey Carroll had four hits at the plate Saturday – here was his fifth. He upended Troy Tulowitzki in the fifth inning to break up a potential double play and cause a throwing error.
1) I don't even want to think about what would have happened if Tony Gwynn Jr. hadn't been in left field at the end of Saturday's 11-7 Dodger victory. For a look at the catch, head to Mike Scioscia's Tragic Illness.
2) Speaking of defense, now I understand what the scouts were saying about Dee Gordon's. His ability to make spectacular plays is enough to convince you that he is the real deal at shortstop. And from what I've seen, he has been solid on the routine plays in his first week as well. Even more than the speed, Roadrunner's defense has gotten me believing in him.
3) There's still the matter of Gordon's bat. In 23 at-bats, Gordon has seven hits and seven strikeouts, zero walks and zero extra-base hits. His batting line makes Aaron Miles, who got his sixth double and third walk of the season Saturday like Adam Dunn.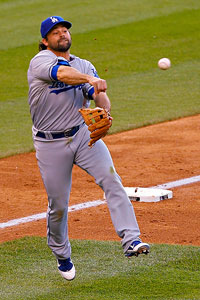 Justin Edmonds/Getty ImagesAaron Miles throws out Eric Young Jr. in the third inning Saturday.
4) Speaking of Miles, I totally get Tony Jackson's musings at ESPNLosAngeles.com about whether Miles and Jamey Carroll have earned more playing time. My quibble would be grouping Miles and Carroll together. Carroll (.378 on-base percentage, .381 slugging percentage) has absolutely earned a spot ahead of Juan Uribe – let Uribe try to prove himself as a hero off the bench. Miles (.319 on-base percentage, .350 slugging percentage), owner of the emptiest .300 batting average in Dodger history, according to Eric Stephen of True Blue L.A., isn't an upgrade over Casey Blake when Blake is healthy. Blake sat out Saturday's game with a stiff neck.
5) Still, if the Dodgers started a lineup of Miles at third, Gordon at short, Carroll at second and platooned Blake and James Loney at first, how much would you object?
6) Scott Elbert and Colorado are not friends. Elbert in Denver the past two seasons: 12 batters faced, nine baserunners (.750 OBP). Elbert everywhere else the past two seasons: 30 plate appearances, seven baserunners (.233 OBP).
7) Carroll moved into eight place in the National League batting race, joining Matt Kemp (third) and Andre Ethier (fourth). The last time the Dodgers finished a year with three of the top 10 in batting average was 1955, with Roy Campanella, Carl Furillo and Duke Snider. The last time the Dodgers had three .300 hitters was 2006 with Rafael Furcal, Kenny Lofton and Nomar Garciaparra. (Here's a full list of Dodger .300 hitters.)
8) Don't miss this morning's note about the Dodger Thoughts comments.
* * *
Don Newcombe was interviewed by Scott Bair of the North County Times.
We started talking about this in the Dodger Thoughts comments Saturday: MLB is mulling a realignment that would send an NL team (say, Houston or Florida) to the AL and possibly eliminate divisions altogether, with five playoff teams per league, reports Buster Olney of ESPN.com. Keith Olbermann takes down the idea at his baseball blog.
Kenley Jansen and Hong-Chih Kuo are doing well on their minor-league rehab assignements, reports Ken Gurnick of MLB.com.
The Hector Gimenez dream has been put in storage. Gimenez, who had been on the disabled list, cleared waivers and has been assigned to Double-A Chattanooga. Juan Castro has accepted his assignment to Triple-A Albuquerque.
Mike Petriello of Mike Scioscia's Tragic Illness argues that it's time to give A.J. Ellis a chance. Of course, that was true before the Dodgers signed Dioner Navarro to a $1 million contract in the offseason.
Randy Keisler, who won a contract with the Dodgers via their open tryout this spring, pitched seven innings of one-run ball to win his second straight game for Albuquerque on Saturday. Christopher Jackson of Albuquerque Baseball Examiner has the story.