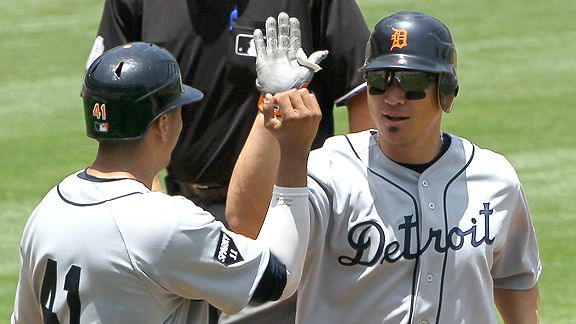 Stephen Dunn/Getty ImagesMagglio Ordonez is greeted by Victor Martinez after Ordonez's two-run home run in the second inning, one of four round-trippers by Detroit today.
Going into today's game, here were Ted Lilly's day and night splits for 2011:
Day: .379 on-base percentage, .566 slugging percentage, .945 OPS
Night: .284 on-base percentage, .389 slugging percentage, .683 OPS
That was before Lilly gave up three home runs in the Dodgers' 7-5 loss to Detroit today, ending Los Angeles' three-game winning streak. In short, Lilly in the daytime this year has practically been like facing a lineup of nine Matt Kemps.
Last year, the day/night OPS difference for Lilly was .796/.640. Should the Dodgers start keeping Lilly out of day games? That split hasn't been consistent over the course of his entire career, so maybe it should just be ignored, but it does have me wondering.
The Dodger offense tried to overcome the troubles of Lilly and Matt Guerrier, who got a quick hook after allowing the Tigers' fourth homer and a single to start the eighth inning. They had their five runs and needed at least two more in the ninth inning when, with one out, Andre Ethier singled and Matt Kemp (triple, two singles, two walks, one steal) got a base on balls. James Loney's third hit of the day loaded the bases.
Don Mattingly then did perhaps the one thing that has been most vexing about him this year — use his pinch-hitters in frustrating fashion. Instead of saving Casey Blake to bat for Dioner Navarro, Mattingly had Blake bat for Dee Gordon. No matter how raw the rookie is, I don't know how you could think at this point that Navarro is a better bat — plus, by sending Blake up with one out, Mattingly almost infinitely increased the possibility of a game-ending double play.
Right or wrong, Mattingly watched Blake strike out and Navarro (who also left the bases loaded in the fifth inning) drove one deep to center that Austin Jackson had to run back to catch before hitting the wall. It was a well-hit ball, but with that out went the tenuous momentum the Dodgers had built for the previous three days.