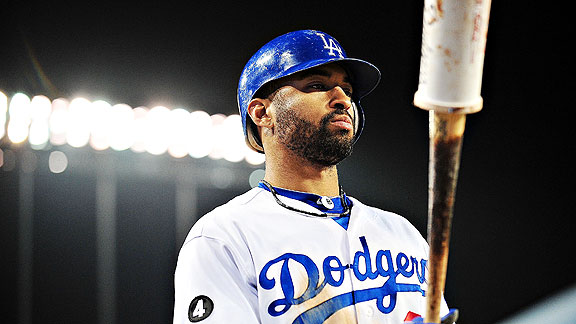 Gary A. Vasquez/US PresswireMatt Kemp has been the most valuable offensive player in the NL in 2011,
according to Fangraphs
.
They are the two shining lights of the Los Angeles Dodgers, two high beams coming down the highway in blinding glory, belying the sputtering engine behind them.
Matt Kemp and Clayton Kershaw are the redemptive forces in a sinful year for the Dodgers. With respect to the speedy pleasures of Dee Gordon, the early season build of Andre Ethier's hitting streak or the fleeting moments of glory for the other boys in white and blue (Hey, remember that time Jerry Sands doubled in his first at-bat? That was awesome), Kemp and Kershaw have been the sustaining forces for the masses.
With Kershaw, we expected no less. Ascending with blinding speed, the lefty has scarcely had his destiny challenged since he made his minor-league debut at age 18, outside some concern about his control that was easily pegged to his youth. Precocious in talent and work ethic, thoroughly grounded and determined, Kershaw just keeps blossoming, with 117 strikeouts and only 114 baserunners allowed in 107 1/3 innings this season. His ERA is at 3.01, with 12 of the 36 runs he has allowed in 2011 coming in twin pairs of sixth and seventh innings on in Cincinnati and Colorado — two blips preventing his ERA from settling in the low 2s.

Every start, Kershaw brings no-hit stuff, and twice in the past month he has nearly brought it home, before settling for two-hit shutouts. Always poised on the mound, Kershaw is the rare beacon of confidence in a Dodger world teeming with doubt.
Rare except for Kemp, who stands in contrast as someone whose raison d'etre has repeatedly been second-guessed. No matter what he did on the field for most of 2010, the question dogged him: ballplayer or imposter?
Kemp picked up the Bison nickname way back in his first week as a Dodger, though perhaps Baby Bison might have been more appropriate.  His obvious speed and strength immediately inspired people who nicknamed him, but anyone could also have anticipated that there would be growing pains on the prairie.
And yet, just as easy as the hurdles were to predict, so was the impatience. Let's put this in perspective: Kemp made his major-league debut in 2006. For four seasons, his improvement was measurable. Even his 2010 season launched like a rocket with seven home runs in his first 14 games.
Whatever the reasons things went wrong for Kemp, 25 years old at the time, the widespread disgust with his performance from so many quarters outran even the Bison. Some of us look at struggling athletes and say, "This is what people go through, and the ones who are meant to conquer it will." Others just say, "This shouldn't happen – period."
No one wants to rehash the whys and wherefores of last season — that'd would deck the halls with all the fun and good times of an unanesthetized root canal. The question was whether Kemp would or could do anything about it, a question that I wrote last fall was anything but simple:
… Everyone is expecting Kemp to be humble about a career that, until a few months ago, he has had every reason to take pride in. That might require more than an overnight adjustment. It might require trying harder, and then thinking you've got it, and then realizing you don't, and then having to search – sincerely search – for new levels within yourself that aren't immediately apparent.

Kemp, who has averaged more than 20 homers a year with a .285 batting average, who has had Gold Glove and Silver Slugger honors, two playoff appearances, a past income of more than $5 million and a guaranteed 2011 income of nearly $7 million, who came back and improved after disappointing finishes to his 2006 and 2008 seasons, is being told that's not enough, not nearly. He's being told that if he doesn't improve in 2011, he will be a great disappointment, and if there's any question about his effort, it will be nothing less than shameful. …

If Kemp were to say to himself – and I personally don't think for a moment he is saying this to himself – "I have money, I have love, I have a good job and I have my health, and I have this all just by being who I already am, and even though I'm no longer the best, that's all I need," no one would think for a moment that this was a legitimate perspective, even though outside the world of competitive sports, it most certainly is. In sports, there's no greater sin than unrealized potential. And yet in life, in real life, letting some of your potential go at a certain point can actually be a gift to yourself and your loved ones. …
As much as I wanted Kemp to rebound, I would have understood on a hits-close-to-home level if he hadn't. But we needn't have wondered.
Smaller guys like Jamey Carroll and Aaron Miles are typically called grinders, but Matt Kemp is nothing if not grinding. You can see it in the way he runs, the way he hits, even the way he holds himself back when he needs to. His spikes pulverize the dirt like engine pistons, his turbine power could light up 200,000 homes.
What's better than a guy who makes you drop everything you're doing to see what he'll do next — and who constantly rewards you for the attention? That is Matt Kemp. His nearly homer-a-day performance on the Dodgers' early June roadtrip was like a layer of Thompson's Water Seal preventing any viewers from leaking away during his at-bats. The man came up to pinch-hit with a bad hamstring in the ninth inning and the Dodgers trailing 6-0 in Colorado — and you had to watch. And he delivered. His 20 homers and 21 steals in only 76 games — just extraordinary.
The respect and fear he has generated has only added to his momentum — intentional walks in the first inning, getting pitched around even if he's the tying or winning run. To his credit, Kemp has made the most of this, reining in his swing when appropriate. I don't suppose people buy tickets just to see maturity on display, but Kemp has put on a nightly revue.
It almost defies belief that the Dodgers might have their worst ballclub in two decades — yet could legitimately end up with the National League Most Valuable Player and Cy Young Awards. In some ways similar, in some ways so different, Kershaw and Kemp have kept the lights on at Dodger Stadium, guiding us through the fog.