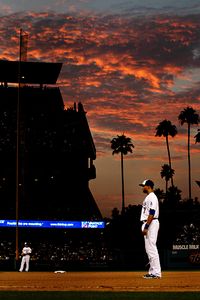 Stephen Dunn/Getty ImagesA beautiful stadium, even in darkening skies.
Can you stop the sun from setting?
Following their two remaining home games with the Mets, the Dodgers bridge the All-Star break with nine games against three division rivals: Friday-Sunday against fourth-place San Diego, July 15-17 at second-place Arizona and July 18-20 at first-place San Francisco. If the Dodgers continue to play losing baseball over that stretch, they should drop far enough back in the National League West race to convince even Dodger general manager Ned Colletti to concede 2011.
If they tread water or make any gains while coming out of the All-Star break against the division's two leading teams on the road – and believe me, I'm not predicting they will, just offering up the possibility – the Dodgers will follow a July 22-24 series against Washington with three games against Colorado (July 25-27) and three more against Arizona (July 29-31) in the final week, all at home, before the July 31 non-waiver trade deadline.
Not much has gone right for the Dodgers in 2011, and so there's limited reason to think that will change. However, 15 games inside the division between now and the end of the month provide this last-place team with one more chance to hold off next year – or extend it an early invitation.