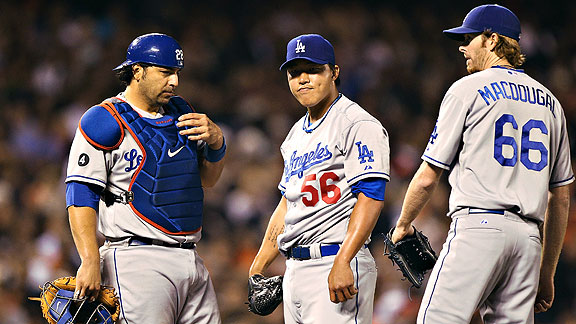 Jed Jacobsohn/Getty Images (file photo)
And then, depression set in …
From time to time I think back to when I was most in despair about my personal life, in large part because I honestly wasn't sure that the bad times would end.  A bit melodramatic mixed with self-pity, sure, but the feelings were real.
You can always imagine the light at the end of the tunnel, and if you're a positive-thinking person, imagining is all you need.  But if you waver, then it's not.  Even today, the relative joy in my life is dotted – on some days even clouded – by worry about things that could go wrong.
That, I believe, is where Dodger fans find themselves today. A bad season is one thing. But it's the uncertain future that dims Dodger Stadium.
A therapist, I believe, would tell Dodger fans to believe that joy is not on some unattainable height, not trapped in some remote snow cave on Mount Everest, but within reach. You'll keep going, and eventually it'll be there.  I think that's the theory to go with. And when we get there, the reunion will be all the sweeter.
The thing to remember is that a rebirth of baseball at Dodger Stadium is truly possible. If it weren't, that would be another matter entirely. (At which point, at least we'd be able to walk away to alternate pastimes.)
In the meantime, don't forget to enjoy the smaller pleasures. And Vin Scully.
* * *
Eric Stephen of True Blue L.A. has a surprising number of good notes from Friday's stumbling 7-2 loss to Washington, while Tony Jackson of ESPNLosAngeles.com wrote about how Hiroki Kuroda having to pitch through all the trade rumors.
Despite giving up the Dodgers' second home run to a pitcher this week, Kuroda rallied to put together another decent outing, before getting his 12th loss of the season. He has a 6-12 record despite 13 quality starts. He made a couple of mistakes, but with this offense, you just can't do that.