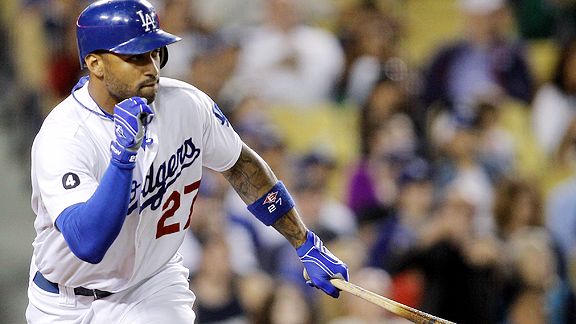 Danny Moloshok/APMatt Kemp pumps his fist after driving in his fourth and fifth runs of the night with a single.
These days, it's almost strange to think the Dodgers play a team game.
Baseball has always been the sum of its individuals, but when a given team has next to nothing to play for, those individual stories threaten to bury the team's winning or losing. This is the time of year where someone's fate is on the front page, and the final score is buried inside.
Kenley Jansen has a heart scare. Hiroki Kuroda wonders who will be signing his August paychecks. Casey Blake tries to get healthy. And Matt Kemp and Ted Lilly battle for the Dodgers' home-run lead.
Tonight, Lilly allowed his 22nd and 23rd homers of the season, but Kemp kept some breathing room by hitting his 25th, while also driving in five runs to take the National League lead with 80. Kemp clinched the seventh 25-25 season in Dodger history, putting himself on pace for 39 homers and 42 steals this year, made a full-extension catch in the left-center gap and generally made this a happy happy fun fun night for the Dodgers.
Who, by the way, won a loopy kind of game – and not a short one – 9-5. You thought I might forget to mention that, didn't you? There was a reason for a team photo tonight, actually – as Vin Scully pointed out during tonight's broadcast, it was the most runs scored by the Dodgers at home since August 4.
Anyway, in case you think the Dodgers might mail it in over the final two months of the season, keep in mind that each and every one of them have something to play for, even if it's only an individual story like pride for Lilly and Andre Ethier (who had three hits), the best possible 2012 contract for Rafael Furcal, Jamey Carroll or Aaron Miles (4 for 10 combined) or potential memorable league honors for Clayton Kershaw and Kemp.