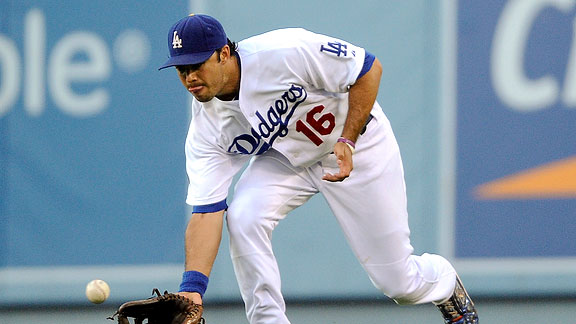 Gus Ruelas/APAndre Ethier, seen here fielding a second-inning single, later made a catch that saved two runs.
This looked like it would be another game that the Dodgers might win while people's minds were elsewhere.
There's nothing scientific to it, but I can think of a few times when the Dodgers have cruised to victory this season while they were making headlines in other ways, whether with the McCourts or with today's trade news. Tonight, Chad Billingsley settled down after Andre Ethier's great catch saved him from getting blasted in the second inning, and Matt Kemp hit another home run to put the Dodgers ahead in the third, and soon it looked like the game was on cruise control.
But smart drivers stay alert. After the Dodgers built a 4-1 lead, Billingsley allowed a leadoff single in the sixth inning, then threw balls on 12 of his next 16 pitches to force home a run. Xavier Nady hit a sacrifice fly to make it a one-run game. Willie Bloomquist struck out, but Kelly Johnson became Billingsley's fourth walk of the inning, loading the bases, and the Dodger starter was done.
It took Matt Guerrier one batter to make it hurt even worse: a bases-clearing double from Justin Upton that propelled Arizona to a 6-4 victory.
Billingsley had pitched into at least the sixth inning 16 times this year and allowed only six total runs in that frame before the five sixth-inning runs he was charged with tonight.