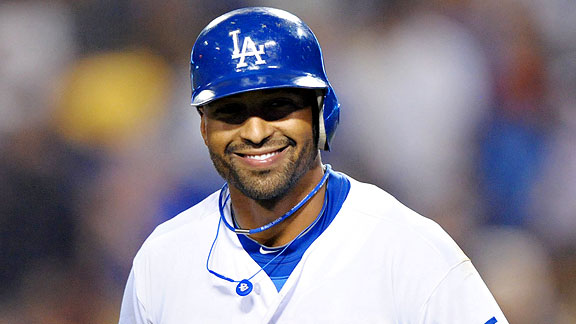 Kirby Lee/US PresswireMatt Kemp (shown above wearing his airplane headset around his neck) is the Dodgers' best Triple Crown candidate since Adrian Beltre, who led the NL in homers
in 2004
and finished fourth in batting average and RBI.
No, we don't value RBI much as a stat in these parts — not without context anyway — and we value batting average even less.
Unless they give us something fun to root for.
Here we are on August 1, and Matt Kemp still is plumb in the thick of Triple Crown contention.
The thing I like most in Kemp's favor is that 33 of the Dodgers' remaining 55 games are on the road, where Kemp is batting .335 with 15 homers and 45 RBI in 48 games.
Admittedly, some of those games will be in pitcher paradises like San Diego, where the Dodgers begin a three-game series tonight. But most of them are in ballparks where Kemp's bat will feel much more footloose and fancy-free than it has in Dodger Stadium this year, where he is batting .301 with 11 homers and 42 RBI in 59 games.
The odds are against Kemp, but it's not ridiculous to think he could do it. Here's the breakdown:
Batting average
.341 Jose Reyes
.322 Ryan Braun
.319 Daniel Murphy
.319 Joey Votto
.317 Matt Kemp
Kemp's greatest deficit is in batting average, but it's also the only category where the leaders can come back down to you. Kemp is currently hitting 27 points above his career average, but Reyes is 50 points above his and hasn't batted over .300 since his rookie year in 2003.
Home runs
28 Lance Berkman
26 Matt Kemp
24 Albert Pujols
24 Prince Fielder
24 Mike Stanton
Comeback Player of the Year candidate Berkman is 35 and has been battling shoulder issues. Kemp's bigger challenge might come from the guys behind him: renowned tater-trotters Pujols and Fielder as well as the up-and-coming Stanton.
Runs batted in
82 Matt Kemp
81 Ryan Howard
76 Prince Fielder
73 Troy Tulowitzki
72 Lance Berkman
How close is it to a miracle that Kemp is leading the National League in RBI? His team's No. 1 and No. 2 hitters are combining for a .327 on-base percentage, which is 10th in the NL and worst among the five teams represented here. But he's come this far … why stop now?