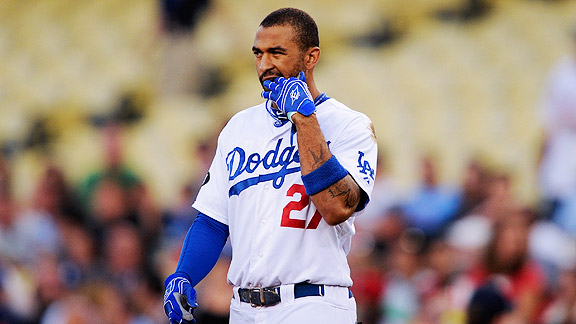 Kevork Djansezian/Getty ImagesMatt Kemp, who went 2 for 5 but stranded five runners, reacts to his inning-ending double play in the first inning.
Anatomy of a loss:
First inning: Two on, one out, Matt Kemp grounds into double play. (0/2)
Second inning: James Loney stranded after singling with one out. (0/3)
Third inning: Two on, two out, Kemp pops out. (0/5)
Fourth inning: no baserunners. (0/5)
Fifth inning: Second and third with one out, Dodgers get one run on an RBI grounder by Casey Blake. (1/7)
Sixth inning: Leadoff singles by Kemp and Aaron Miles, wasted. (1/9)
Seventh inning: Two on, one out, Andre Ethier fouls away a 3-0 pitch, hits into double play on 3-1 pitch. (1/11)
Eighth inning: Leadoff singles again by Kemp and Miles, who singles in Kemp from second. After Rod Barajas walk, Miles scores on Juan Rivera single. Two runners stranded. (3/15)
Ninth inning: Leadoff single by Blake, Ethier pops out, Kemp strikes out, Miles grounds out. (3/16)
Thirteen hits, three walks, no extra-base hits, no victory. Believe it or not, the Dodgers haven't had a game quite like this all year: getting at least 16 baserunnners while scoring less than four runs. According to Baseball-Reference.com, it was also only the fourth time this century that the Dodgers had at least 16 baserunners without an extra-base hit.
It was a new kind of run non-support for losing pitcher Hiroki Kuroda.