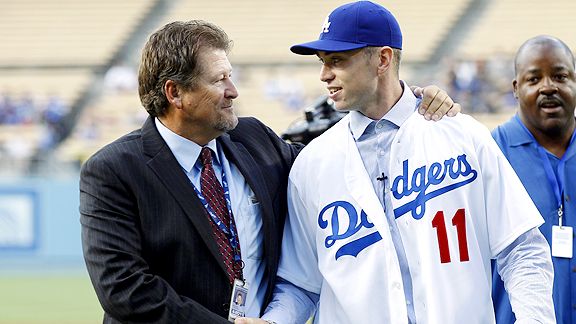 Danny Moloshok/APLogan White welcomes newest Dodger Chris Reed to Los Angeles before tonight's game.
Uh-oh or 0-0, it was the Dodgers and the Astros.
Not shockingly, two of the weaker lineups in baseball went into extra innings before they scored a run. Fortunately for the home team, it was Los Angeles that finally scored for a 1-0, 10th-inning victory over Houston.
Dodger rookie Nathan Eovaldi lowered his ERA after two starts to 1.64 with six shutout innings, meaning that 10 of the 11 innings he has pitched in the majors have been scoreless. Tonight, he walked four but allowed only two hits, striking out three.
Eovaldi's biggest jam was in the fourth inning, when he walked Carlos Lee with first base open to load the bases with one out, but the youngster retired J.D. Martinez and Jimmy Paredes.
But there was similarly little offense behind Evoaldi and one-inning relievers Matt Guerrier (who struck out the side), Mike MacDougal and Javy Guerra. The Dodgers did not get a runner to third base until Rivera's fourth career triple, just beyond the reach of diving Astros center-fielder Jason Bourgeois, leading off the ninth. Remarkably, even for this offense, the Dodgers didn't score. After Houston walked James Loney and Dioner Navarro intentionally, Tony Gwynn Jr. struck out, Jamey Carroll weakly grounded into a force at home and Aaron Miles grounded to second.
After another shutout inning by Josh Lindblom to start the 10th, Casey Blake tried to get things going again with a leadoff double sliced down the right-field line. Reliever David Carpenter went 3-1 to Andre Ethier before throwing an intentional ball four, preferring to face the right-handed bat, however dangerous, of Matt Kemp.
(An intentional walk to Kemp to load the bases was an option, even with first base occupied, given that Eugenio Velez was on deck. You know Velez and the fates wanted that opportunity.)
Kemp didn't hit it hard, but he pushed an 0-2 pitch over first base and down the right-field line as well, and that was it. The Dodgers had completed their rout.